Summertime seems like the perfect time to create recipes with fruit that are not desserts. I mean what could be better than a summer appetizer, more savory than sweet, that has fruit as the star of the show? That's what I think about in my spare time, of which I have a lot since I MEtired. Not complaining, I assure you.
I am still trying to grasp the concept of not working in an office job, the career for which I trained so long. But nearly four decades of work is a long time and I am slowly letting go. It has been a year since I worked in my office (that is, the office in real estate owned by someone else)! The time has flown by because I love what I do every day. What is it that I do? I am busier now than I was when I worked as a lawyer. My days are filled with healthy pursuits (exercise and healthy eating–mostly) and the enthusiastic quest for knowledge of all things creative.
I am more interested in food photography now than I was in rules and regulations. I love blogging and honing my writing not in a brief or memorandum style but in a more relaxed and talkative way. It is a change that I have totally embraced and my new "work" is more than I could have ever hoped for in terms of daily satisfaction.
So, back to my Grape Compote….I wanted to create a delicious appetizer that was different from the usual summer fare. I love bruschetta but frankly, as I have admitted many times on IG, I am not a tomato fan except in very limited circumstances.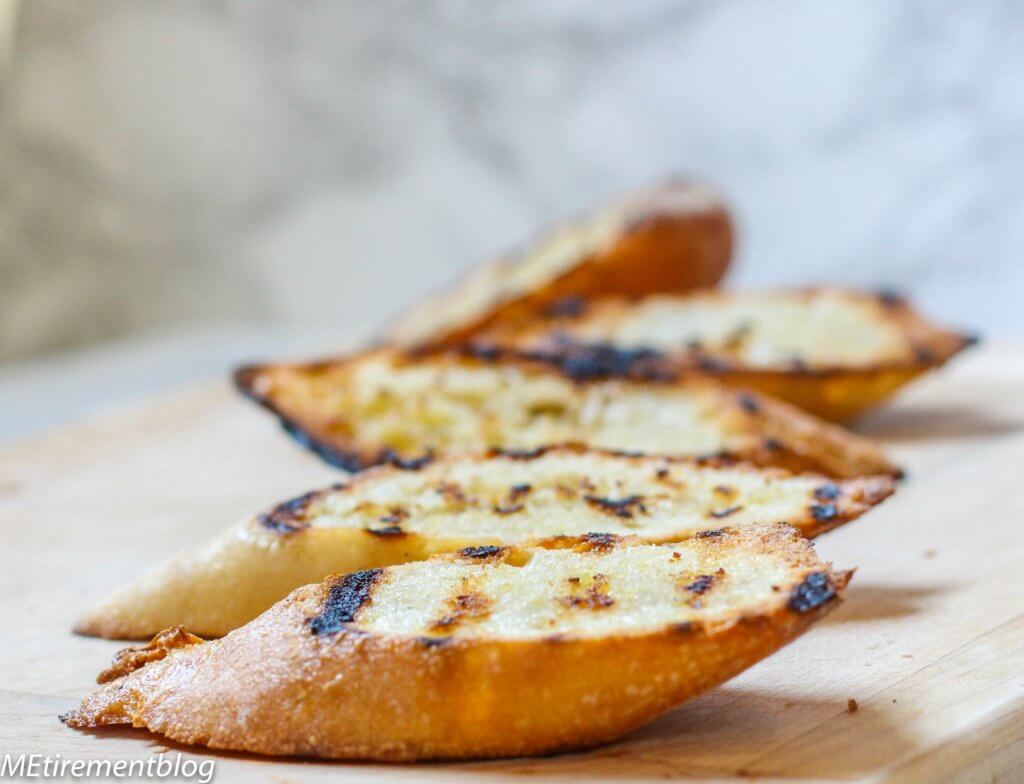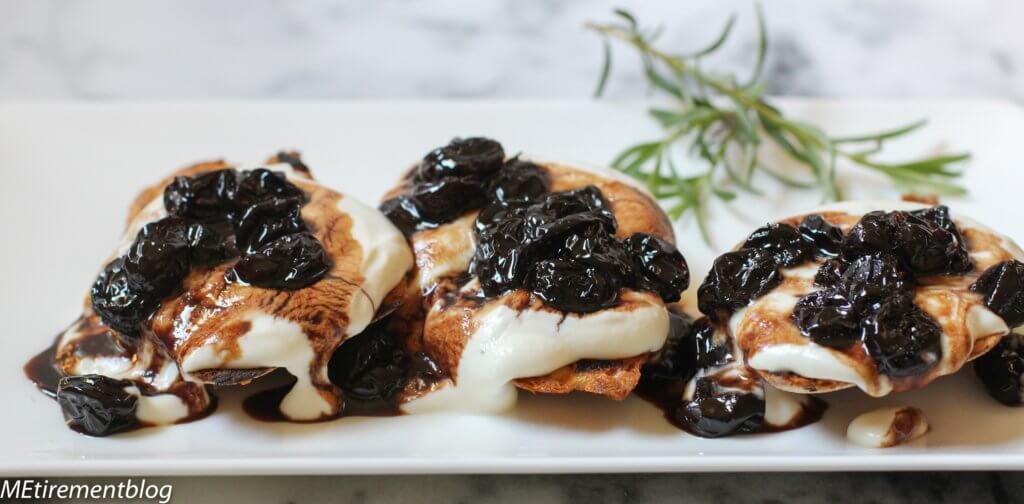 If you love tomatoes, you could substitute tomatoes for grapes in this dish and I am sure they would be just delicious. Make sure you watch them as they roast at really high heat at the end or you will find the balsamic glaze nothing but a charred memory.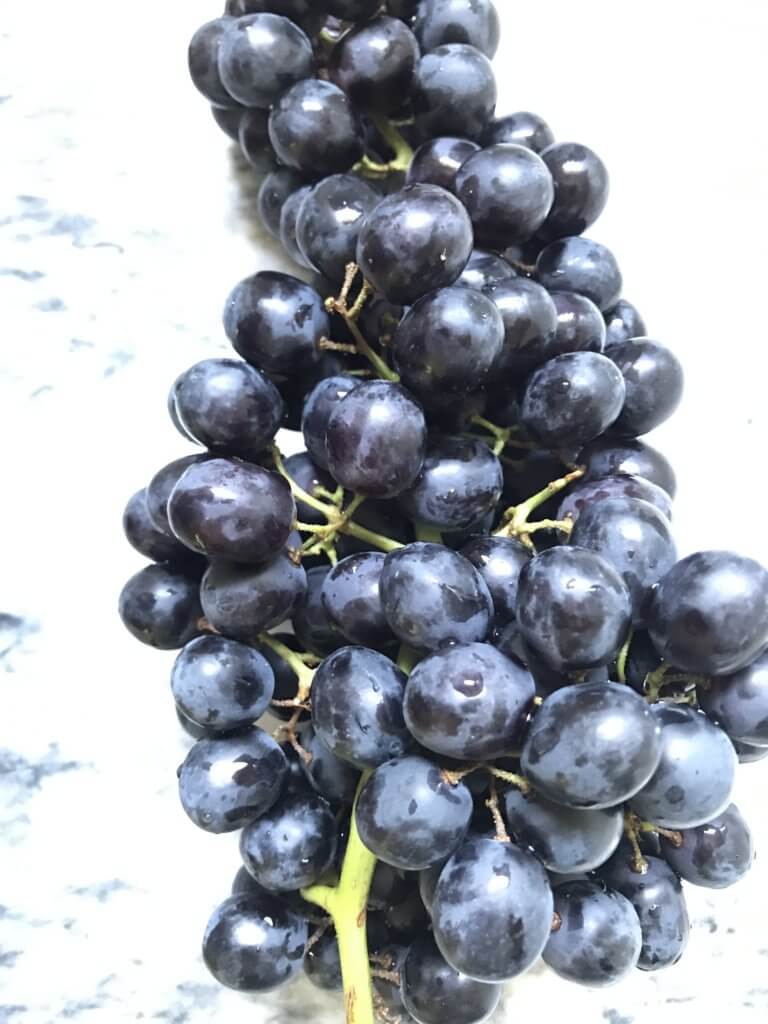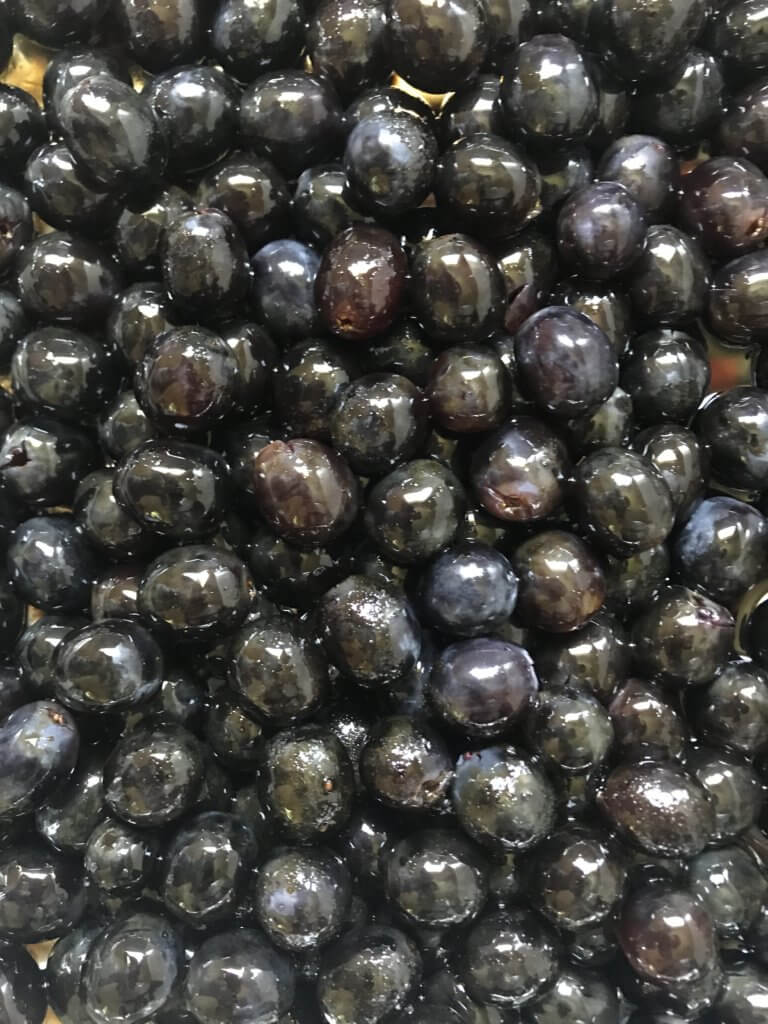 The sweet fruit combined with the creamy ricotta and goat cheeses is really a tasty combination, especially on grilled, crispy, garlicky French bread. Trust me, this is the real deal of an appetizer and would go great with a pitcher of sangria. Grape+grape (get it?)=sublime.
Garlic Bruschetta with Whipped Ricotta and Goat Cheese with Roasted Balsamic Grape Compote
Ingredients
For the Grape Compote:
1/3

cup

balsamic vinegar

2

tablespoons

dark brown sugar

1 ½

pounds

seedless purple grapes
For the Whipped Ricotta and Goat Cheese:
5

ounces

whole milk ricotta

4

ounces

goat cheese

3/4

teaspoon

sea salt

¾

teaspoon

chopped fresh rosemary

¼

cup

half and half
For the Garlic Bruschetta:
1

loaf French bread

2

tablespoons

butter

1

tablespoon

olive oil

2

teaspoons

finely minced garlic
Instructions
For the Grape Compote:
Preheat oven to 400 degrees.

In a microwave safe large cup, heat the vinegar and brown sugar for two minutes until sugar is dissolved and mixture starts to thicken.

Put grapes in a 9 x 13" baking pan lined with aluminum foil and pour the vinegar mixture over the grapes, mixing well.

Roast the grapes for 1 hour. Lower the oven temperature to 250 degrees and bake 2 more hours. Raise the temperature to 450 degrees and bake the grapes for another half hour, watching carefully so they do not burn. Remove from oven and set aside.
For the Whipped Ricotta:
Combine all ingredients in a blender or Nutri Bullet and blend just until smooth. Don't overmix or the cheese will become too watery.
For the Grilled Bruschetta:
Preheat a gas grill or grill pan to medium high heat.

Slice the bread on the diagonal into 12 medium thin slices.

Combine butter, olive oil and garlic in a microwave safe dish and heat for 30 seconds until butter is just melted.

Brush the bread with the mixture and grill for about 1 minute a side watching very carefully and turning often so the bread does not burn.
SaveSave
SaveSave