What an ethereal name this dessert has, don't you think? I remember this dessert from my childhood because my mother used to make it for very special occasions. An egg-shaped meringue floating on a bed of creamy, vanilla custard makes quite a statement especially these days when everyone is trying to outdo everyone else with the non-ice cream ice cream and chia seeds. No offense to anyone but sometimes a real dessert is needed. Then everyone can go back to bananas. There is a time and place for everything and tonight, let it be Floating Island.
You make this dessert in stages. First you start the custard by beating the egg yolks and sugar. Then you make a poaching liquid which later becomes the custard when mixed with the egg yolks. In the middle of all of this you make the meringues and poach them. It sounds a bit more complicated then it really is and it is so worth it when you see the surprised looks on the faces of your families that you made such a unique dessert.
This is an oldie but a goody for sure. Don't you think that old-fashioned desserts should make a comeback? I do.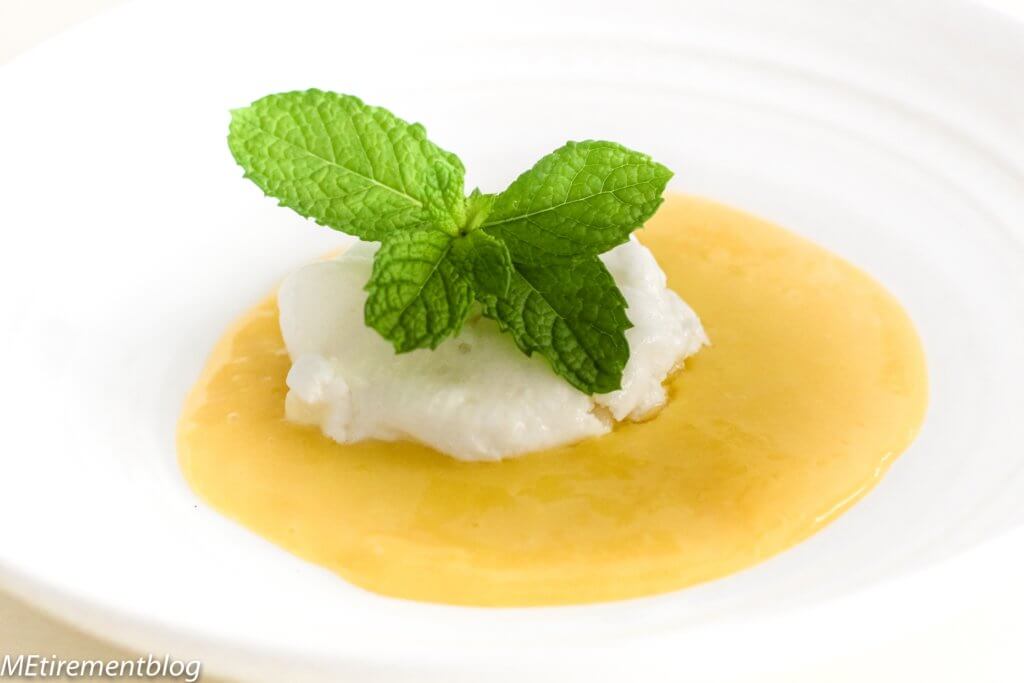 Floating Islands
This is a dreamy dessert with a lovely, light meringue floating on a pool of creamy vanilla custard. Simple to make and gives your dessert presentation that WOW factor. Just follow the steps and you will see how easy it is to make a really impressive dessert.
Ingredients
For the Vanilla Custard:
4

egg yolks

reserve 3 egg whites for the meringues

½

cup

sugar

½

teaspoon

vanilla

1

cup

whole milk

1

cup

half and half
Meringues
3

egg whites

Pinch

of salt

1/3

cup

sugar
Instructions
For the Vanilla cCustard:
In a large metal mixing bowl that will fit into a saucepan (or a double boiler), beat the egg yolks with the sugar until well blended. Stir in the vanilla. Set aside. Heat the milk and cream in a large saucepan over medium low heat until it is just bubbling.

Make the meringue mixture and poach them in the milk/cream.

When the meringues are done, finish the custard sauce.

Strain the milk/cream poaching liquid gradually into the egg yolk and sugar mixture, whisking until smooth. Wash out the saucepan and fill the bottom with enough water just to touch the bottom of the mixing bowl. Bring the water to a low simmer.

Place the metal bowl containing the egg yolk and milk mixture over the simmering water and stirring gently, heat the custard until it coats a spoon. This will take about 15 minutes of careful watching and stirring so it does not curdle.
For the Meringues:
Lay smooth kitchen towel on work surface.

Using an electric mixer, beat the 3 reserved egg whites in large bowl until foamy. Add salt and beat until whites hold soft peaks. Add sugar, 1 tablespoon at a time, beating until whites are stiff and glossy.

Scoop some meringue (about twice the size of an egg) onto large oval spoon. With a spatula, gently ease the meringue from the spoon into the simmering milk/cream mixture.

Repeat with 2- 3 more meringues, dropping each into the milk/cream. They will puff up as they cook so do not crowd them. Simmer meringues for 3 minutes and then turn the meringues over and cook for 2 more minutes.

Using a slotted spoon, transfer meringues to towel (meringues will deflate slightly as they cool). Repeat process, shaping and then poaching enough meringues to make total of 12.

Transfer meringues to a parchment or waxed paper-lined baking sheet. Refrigerate until custard is cooled.

Spoon some sauce into center of each plate. Arrange 2 meringues on each. Garnish with mint or sliced strawberries.