Just a quick post to supplement my Instagram photo of this delicious salad which I whipped up in a jiffy to take advantage of the summer's bounty while it is still summer. And still bountiful! To make this tangle of deliciousness, I spiralized two zucchini, stripped off the kernals from 3 ears of fresh corn (no cooking required!) and topped the vegetables with some thinly sliced tomatoes and nectarines. Feel free to use peaches but I couldn't find any that were ripe. I mean..it's the middle of summer and the peaches were rock hard. Nectarines worked fine.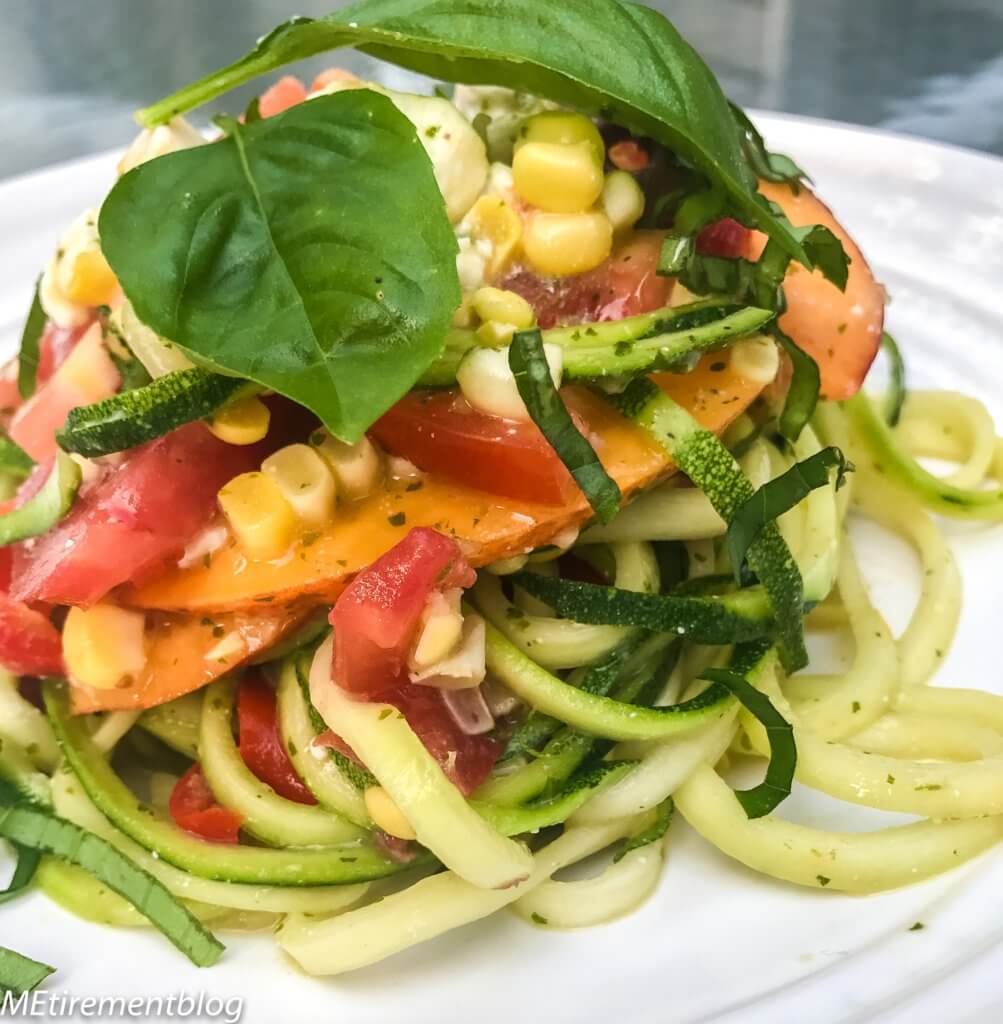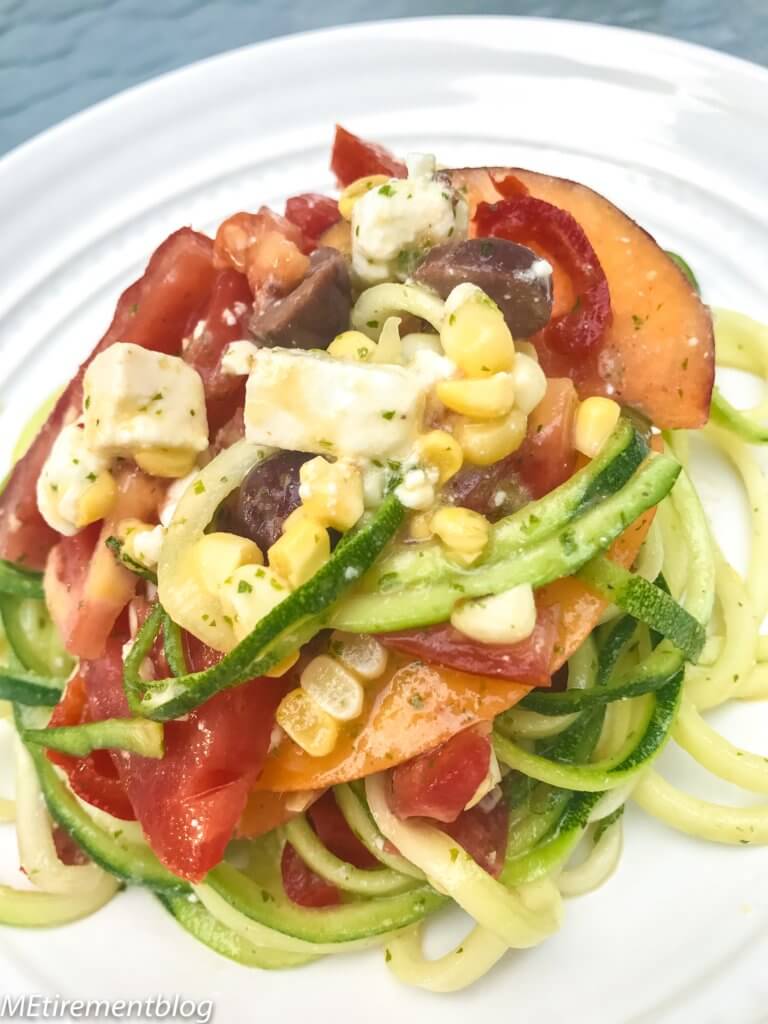 As you know, I love the olive bar at Kroger. Just love it. Especially the mixed olives with the feta cheese in a seasoned olive oil. I sliced up the olives, added a bit of Bulgarian feta (also from Kroger) to the feta in the mix and tossed that all in. I used about 3 ounces each of olive mix and feta. And for color I threw in a few of the Peppadew peppers, thinly sliced. I mean they were just there on the olive bar and I couldn't just ignore them.
For the dressing (see below), I relied on my favorite olive oil and vinegar from DeLallo Foods. The Golden Sweet Balsamic vinegar is tangy but not so sharp that it overwhelms the dressing. What I particularly like about the vinegar is that it blends really well with a salad that contains fruit but it is not so sweet that it isn't well accepted by an all-savory salad such as an antipasto salad (more about that in another blog post).
I also wanted to take this opportunity to post all of my photos of the lovely salad because I departed from my usual DSLR camera and took these on the iPhone because everyone was hungry and wanted their dinner. Gotta love mobile devices.
Short post today because I am off to the Pinch of Yum Photography Workshop and I could not be more excited. Back this weekend to show off everything I learned. I know it will be loads of fun and I hope that I will acquire some new skills. After all, as I have said all along, MEtirement gives you the gift of time to stretch yourself, to take chances (within reason!)  and to do the things you have always wanted to do. I am still in transition from being a lawyer to doing something with that other side of my brain and I am loving every single minute of it.
And thanks to all my IG followers and those that read this blog. This year has been amazing and I would never have persevered if not for the continuous support of all the people who take the time to see what I am up to. Thank you, thank you, thank you.
Tangy Cilantro Dressing
This dressing can be used on any salad but it is particularly good on a salad containing a mix of fruit and vegetables. It is just sweet enough to enhance the fruit but savory as well to align with the salty Feta.
Ingredients
3

tablespoons

DeLallo Golden Sweet Balsamic Vinegar

2

roasted shallots

1

tablespoon

coarse mustard

1

tablespoon

honey

½

cup

cilantro leaves and stems

1/3

cup

extra virgin olive oil

salt and pepper
Instructions
Combine all ingredients in a blender or food processor.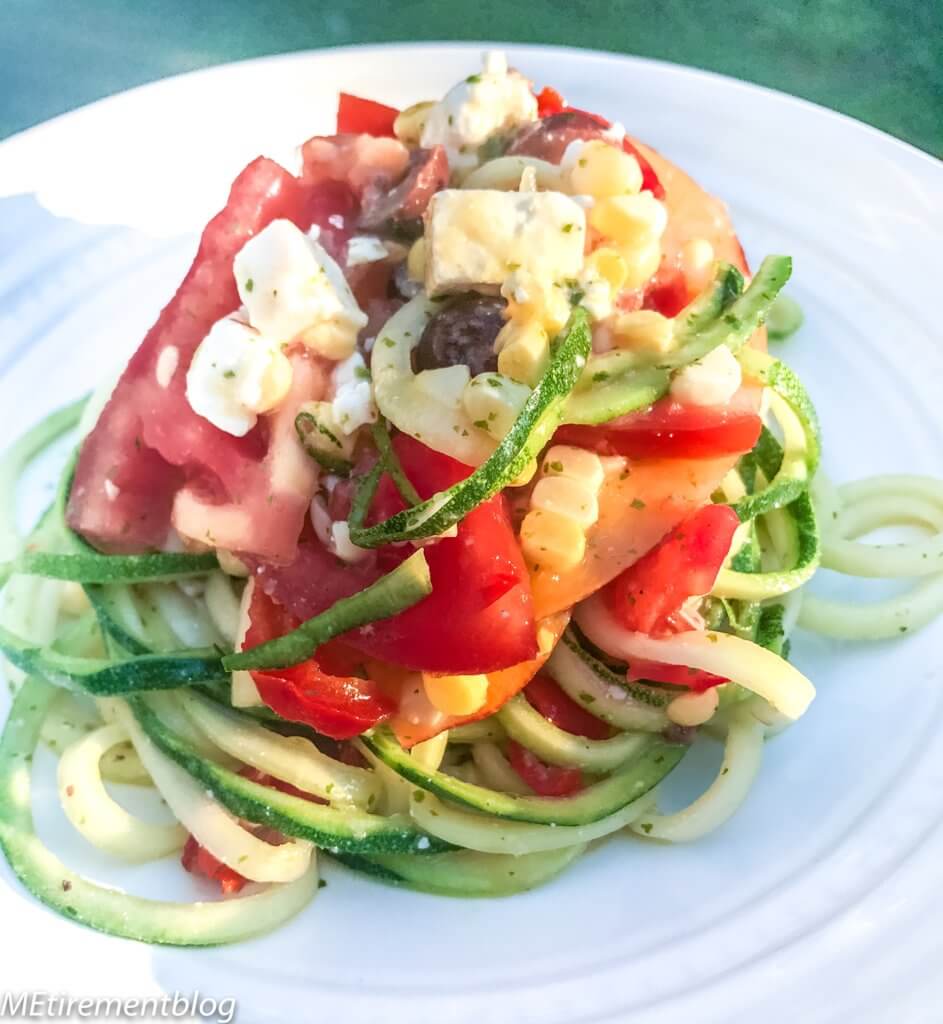 SaveSave