Well isn't that title a mouthful? So is this fabulous sandwich. WARNING: this sandwich is not beautiful. It is flavorful to the max and juicy beyond belief but it is not pretty. No matter how I tried to dress it up and make it up for the photos, I just could not get it to look pretty. So please don't judge. Me or it. I am very sensitive about my photography skills (still learning in MEtirement) but you just have to trust me. You really want to eat this sandwich because it will blow you away.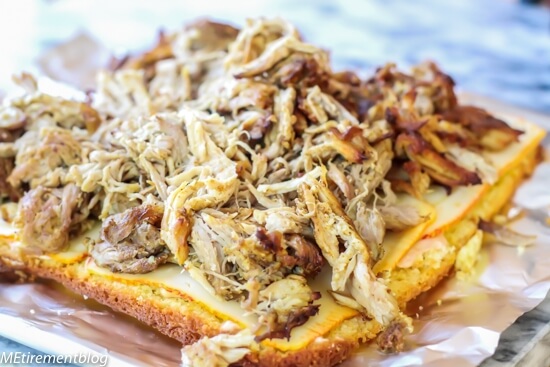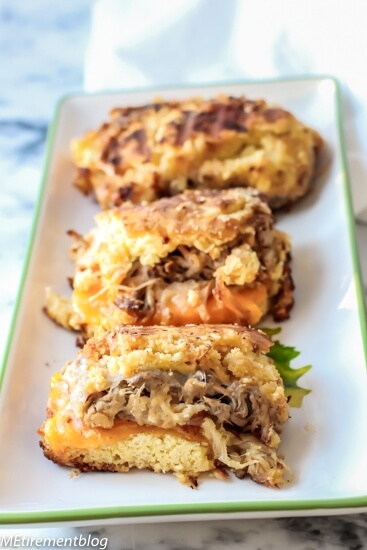 I am working on making cooking videos! Me, the former lawyer who couldn't turn a camera on a year ago. And while that is all still a work in progress,  I do know how to make a crazy, newfangled sandwich! On cornbread!!  Buttery and crumbly on the outside and sweet and smoky on the inside. And that creamy, melty cheddar and muenster cheeses! Who would have thought of that???? The sandwich starts with the Pulled Pork Carnitas which I posted about two weeks ago. You can either save some from those carnitas or make a fresh, new batch. You can also caramelize the onions ahead of time. I love the recipe Heidi from Foodiecrush developed so if you want really great caramelized onions for this sandwich, you should try this recipe.
If you save the Pulled Pork, all you have to do is run it under the broiler to warm it up and make it a bit crispy (but don't let it dry out) and heat the onions before proceeding with the sandwich.
Of course, you know from reading this blog that I love Krusteaz Honey Cornbread so I started with that as the inspiration for this dish.  And the good news is they also make a fat-free and gluten free version of this wonderful cornbread!
Start by baking the cornbread in an 8 inch square, very well-buttered pan. When it is completely cool you slice it horizontally into two pieces. As I said before this is a bit tricky to do without making it crumbly, but it can be done.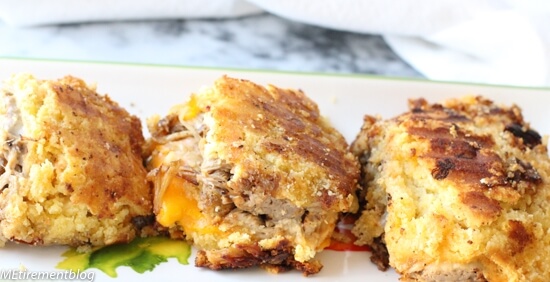 You spread the bottom piece of cornbread with half of  a mixture of  1/2 cup mayonnaise and 1/3 cup Heinz Kansas City Barbecue sauce. Then layer on 4 slices of muenster cheese, 3 cups of pulled pork, 3 caramelized onions, the rest of the mayo and BBQ sauce and 4 slices of sharp cheddar cheese. Top with the reserved half of the cornbread and cut the whole thing into 6 pieces. Grill three of them in butter (keep adding more for each batch) and keep them warm in a 300 degree oven for 10 minutes or so to heat them through.
I served them with some warm BBQ sauce on the side and they were delicious. Remember this: you can't judge a book by its cover. Beauty is only skin deep. etc etc etc. In other words, these sandwiches are a metaphor for life. Something not so beautiful on the outside may be very wonderful and delicious and delightful within. Keep that in mind as you look at the photos. Oh, and that goes for people as well!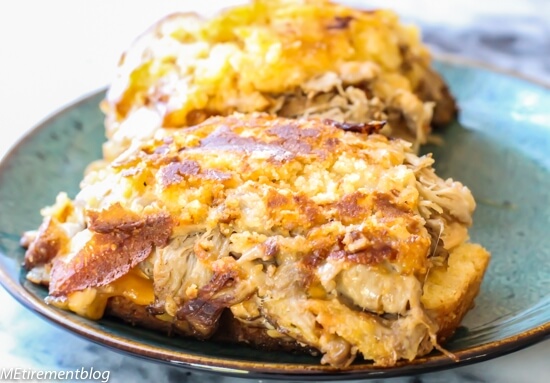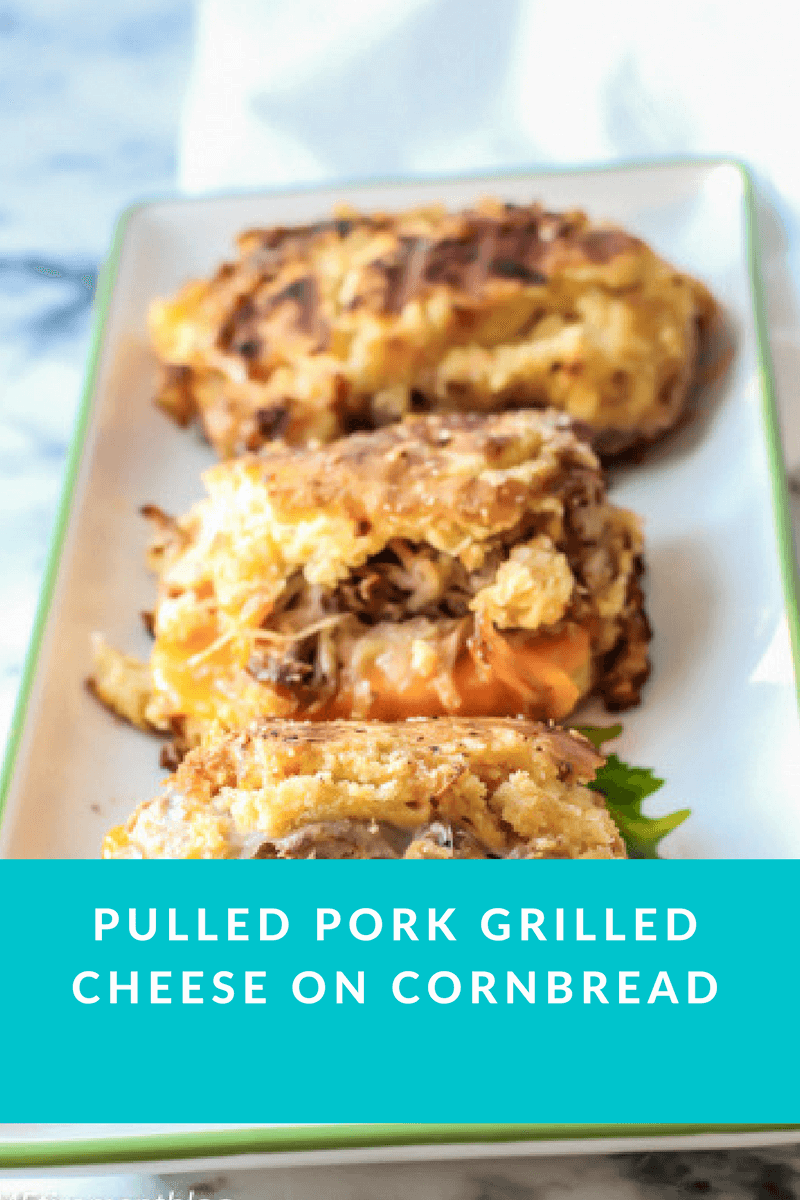 Designed in Canva
SaveSave
SaveSave
SaveSave