I really like tacos. But sometimes those folded over shells seem a bit cramped and the amount of filling is limited. I hate when that happens. In order to get more bang for your buck, so to speak, sometimes you just need a more spacious base for all of your delicious ingredients. Thus, a tostado. An open-faced taco made with a crispy tortilla. You do not have to fry these and to keep them healthy-ish, just brush tortillas with olive oil and bake them in the oven until they are nice and crisp.
The pulled pork is made in the slow cooker (or an Insta pot if, unlike me, you are not scared of using it–working through my issues with exploding pressure cookers, a relic from my childhood). First I rub the pork all over with my delicious spice rub (I put this on everything including salmon) and put the pork on a bed of onions in the slow cooker. My favorite Ancho chili powder and other spices for the rub come from Penzey's and I have found them to be fresh and full-flavored. Let the pork cook, cook, cook until it is tender but not total mush. I might have made this mistake more than once in my life but I am now a reformed overcooker. Tender, not mushy, is my new motto when it comes to slow cooking.
The pork can be made a day or two ahead and broiled when you are ready to make the tostados. The more toppings the better. You will love the whole tostado thing because you can eat them not just on Tuesdays, which I understand are reserved for tacos. I am going for Tostado Thursdays. What do you think?
The pulled pork is very versatile and you will see it soon on the most unbelievable grilled cheese using a secret ingredient next week. Get excited please because this grilled cheese is like nothing you have EVER seen. In the meantime, love these tostados. You will not miss your tacos, I promise.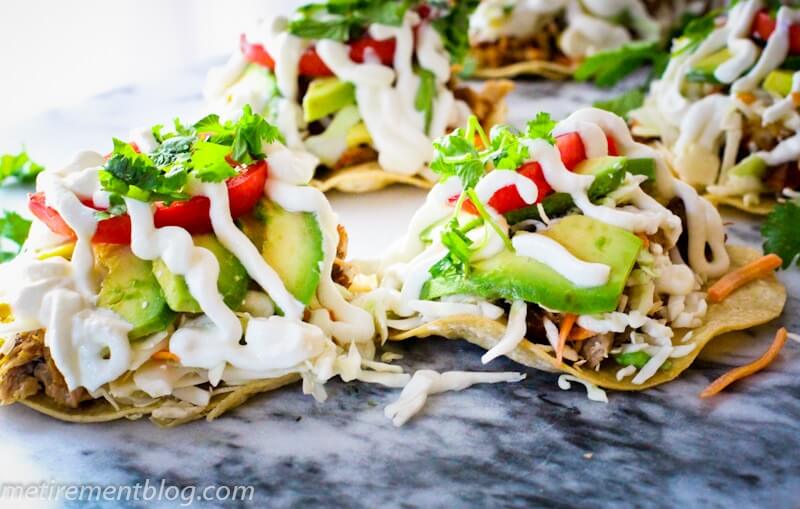 Pulled Pork Carnitas Tostados
Carnitas means "little meats" and are the result of braising pork over low heat for hours until tender. Once shredded, it forms a delicious topping for a crispy tortilla. There are a myriad of toppings you can use—pickled onions, salsa, guacamole, tomatoes, shredded cabbage and cheese. Whatever the toppings are, the pork is so flavorful that it will shine through.
Total Time
6
hours
15
minutes
Ingredients
6

pounds

pork shoulder roast
For the spice rub:
1

Tablespoon

Ancho Chili Powder

2

teaspoons

ground cumin

2

teaspoons

ground coriander

1

tablespoon

dry mustard

2

tablespoons

brown sugar

1

tablespoon

smoked paprika

1 1/2

teaspoons

salt

1

tablespoon

oiive oil
For the carnitas:
1

onion

thickly sliced

6

cloves

garlic

minced

12

ounces

beer

preferably pale ale
For the tostados:
8-10

corn tortillas

2

tablespoons

olive oil
Instructions
FOR THE CARNITAS:
In a small bowl combine all of the ingredients for the spice rub. Rub on the outside of the pork shoulder for a few minutes until the rub is absorbed into the meat.

If you have a slow cooker that also browns the meat, or in a large skillet, add the olive oil , and sauté the onion until it is slightly brown. Add the garlic and sauté for just two minutes until it is cooked but not brown. Move the onion and garlic to the side and add the pork roast. Brown all sides of the roast. This should take about ten minutes. If you used a skillet, transfer the pork, onion and garlic to the slow cooker. Add the beer and cook on a low for 5-6 hours until the pork is very soft but not mushy.

Remove roast from slow cooker and shred, discarding all of the fat.

You can refrigerate the pork overnight at this point.

When ready to serve, place the shredded pork on a foil-lined baking sheet. Broil in the oven for 3-4 minutes until it gets just crispy. Set aside.
FOR THE TOSTADOS:
Turn oven to 400 degrees.

Brush the tortillas with olive oil and place them on two foil-lined baking sheets.

Bake until they are just starting to brown, about 10 minutes.

Put the crispy pork back in the hot oven for 5 minutes to rewarm.

Divide the pork carnitas among the crispy tostados. Top with your choice of shredded cabbage, avocados, guacamole, tomatoes, cheese, pickled onions and /or sour cream.
SaveSave
SaveSave