The last Thanksgiving dish has been washed and now we turn our thoughts to the rest of the holidays in the quickly passing year. This rocket- spinning- time -passage thing is not unique to those of us who are MEtired but let me tell you in relative terms, fast moving years just go by in a blur the older you get.
Therefore, please take a moment to breathe and appreciate the moments before they fly out of your head to be gone forever. That whole "live in the moment" thing has a ring of truth and it is far easier to pay it lip service than it is to live it. But I am asking/telling/begging you not to let sweet moments go unnoticed. Take a snapshot in your head and try to remember how wonderful the days of your life can be. This is spoken from the perspective of someone who has realized over the last few years that the years behind me are triple what like lie ahead, if I am lucky. So I am not one to squander anything these days.
Which brings me to the gap between Thanksgiving and Christmas and ending with New Year's. What to do with the gap?  I have a suggestion based on what I do ever year. I plan APPETIZZERS. Lots and lots of appetizers. Because I really think that at the holidays, while your family/guests love to see the big turkey or tenderloin or ham or whatever huge protein thing you put on a platter is, at the end of the day what they really want are 1) creamy, cheesy dips like crab and cream cheese with little rolls to dip, 2) things cooked in puff pastry like brie and fig and cranberry sauce 3) little piggies in little blankets 4) crab cakes with tartar sauce etc etc. I could just go on and on with this list but you get the picture.
So, I like to make lots of appetizers,  small and large  (think a nice pate with french bread) and let people feast on those. Of course, such small plates requires, I mean mandates, that there be at least 6 desserts so no one leaves hungry.
Turning to the first holiday appetizer I am sharing (and there will be lots more), I was thinking about Reuben sandwiches on small slices of bread. But those always get a bit soggy with the sauerkraut and the Thousand Island Dressing gets a bit messy. Then, I had an epiphany. Not a religious one but a hash brown potatoes epiphany. I love Simply Potatoes Hash Browns. They save my little knuckles from harm (I hate grating anything) and they don't turn brown. They taste fresh and delicious and because they aren't all soggy and watery, they get nice and crispy when you bake them in muffin tins. So there is your base.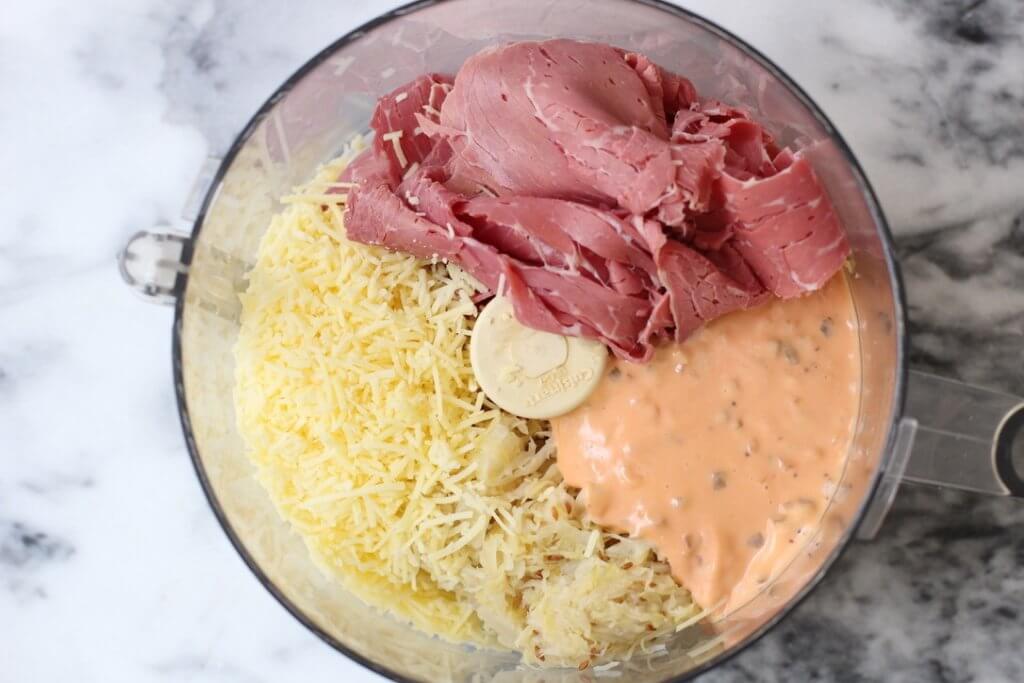 For the filling I make homemade Thousand Island Dressing which must, must, must be made with Hellman's  and Heinz Ketchup and Heinz Pickle Relish. Please don't argue with these brand selections. If you want perfection in a Reuben, it must be as above. I am the Reuben boss (today). And, as an aside, I am almost as old as these brands. Just kidding, but I am getting close.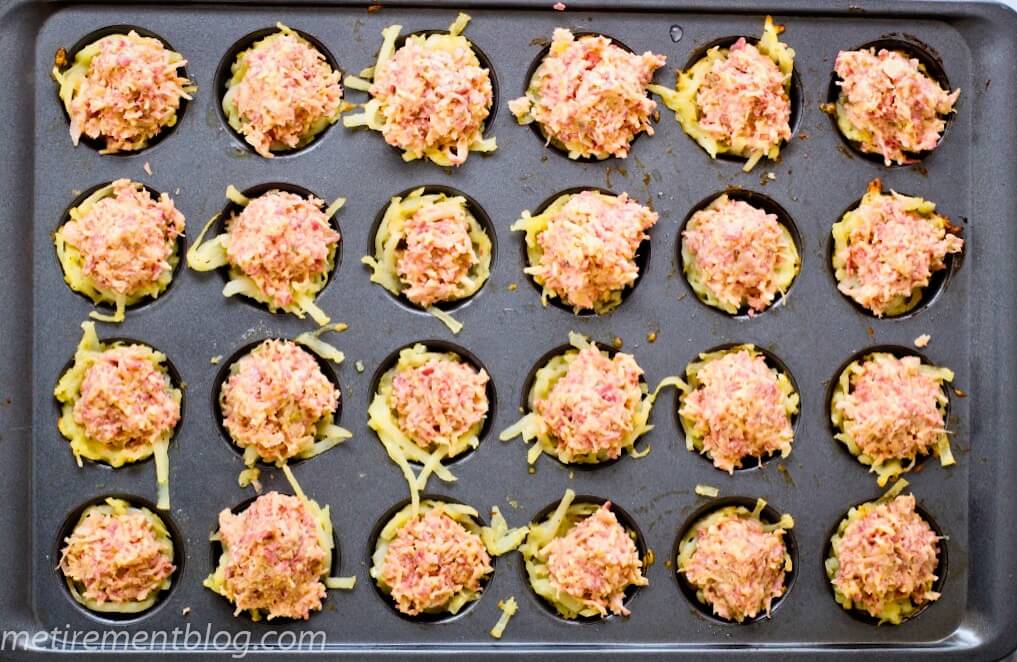 You can make homemade corned beef if you want to knock yourself out, or do as I did and buy delicious Boarshead Corned Beef. Really lean and flavorful and the texture is perfect when chopped up because it doesn't go all mushy.
The recipe is easy and you will love these unique little bites with their hash brown nests on the outside. More apps to come as I try to remember (not an easy task these days) all the one's I have served in past years. Stick with me for the next several weeks and you will have lots of ideas in your holiday recipe arsenal.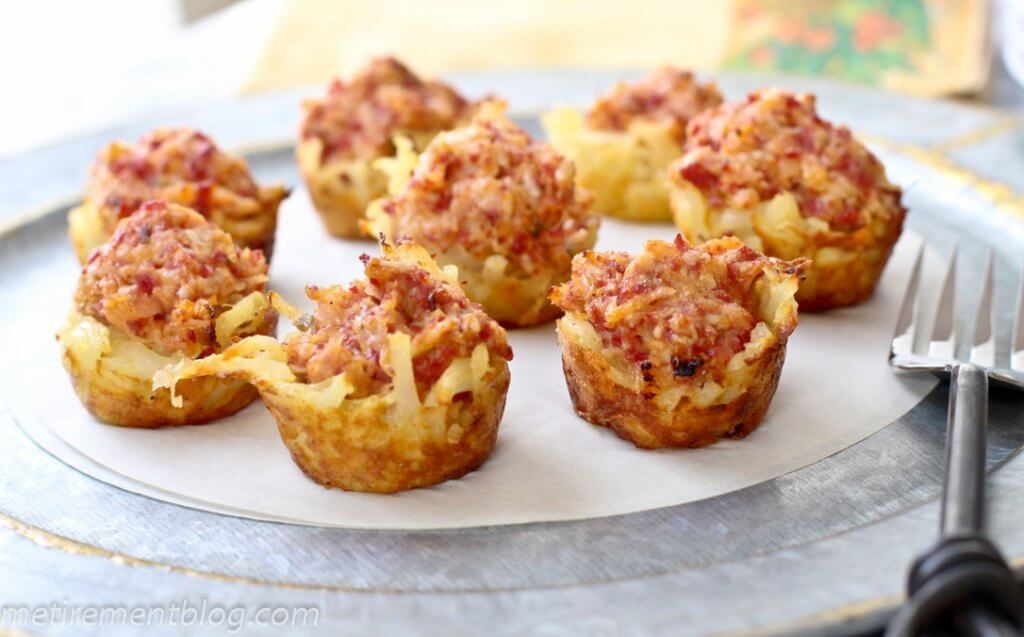 And by the way, as much as I love to cook, my baking skills cannot ever rival my cooking so I will leave the beautiful cookies to all of the bloggers who impress me with their talents every day. Thanks Sally @sallysbakeblog, Lindsay @pinchofyum, Shelly @cookiesand cups, Bev@Bevcooks, Ashley@bakerbynature, John@preppykitchen, Molly@mollyyeh, Tieghan@halfbakedharvest and Jessica@howsweeteats, just to name a few of those dedicated people who are just killing it each and every post. And a a grateful shout out to all those teachers out there who are willing to share so generously their skills with others (Lindsay's Pinch of Yum Workshop, Brooke at Cheeky Kitchen, Rachel at Two Loves Studio, Carla at Stomach Half Empty and Sarah at Broma Bakery). There are many other bloggers who elevate cooking, writing, photography and food styling to a whole other level of perfection but they are too numerous to mention here. So if you are a great food blogger, consider yourself mentioned and appreciated.
Happy Reubens everyone!
Mini Reuben Bites in Hash Brown Potato Cups
Little shredded cups of cheesy hash browns form the base of these delicious bites which taste just like a Reuben sandwich but without the mess.
Ingredients
For the hash brown potato cups:
1 20

oz

bag Simply Potatoes hash browns

½

pound

gruyere cheese

shredded and divided

2

eggs

beaten

½

teaspoon

salt

½

teaspoon

pepper

¾

teaspoon

nutmeg

1

tablespoon

flour

1

grated onion

squeezed dry in a towel
For the Thousand Island Dressing:
1/3

cup

Hellman's mayonnaise

2

tablespoons

Heinz ketchup

1

tablespoon

Heinz pickle relish

well-drained

½

teaspoon

sugar
For the Reuben filling
¾

cup

gruyere cheese

reserved from the hash brown cups

½

pound

lean corned beef

thinly sliced

1/1/2

cups

well-drained sauerkraut from a 16 ounce jar

I uses Saverne Artisinal Kraut with craft beer

pinch

allspice
Instructions
For the hash brown cups:
Preheat oven to 375 degrees. Butter a mini muffin pan.

Combine all ingredients in a large bowl, reserving ¾ cup gruyere cheese for the corned beef mixture.

Firmly press about 11/2 tablespoons of hash brown potato mixture in each muffin cup.

Bake the cups for 12 minutes until they are just starting to brown around the edges.

While hash brown cups are baking, make the filling.
For the Thousand Island Dressing:
Make the Thousand Island Dressing by combining all of the ingredients in a small bowl. Refrigerate.
For the Reuben filling:
Combine the reserved ¾ cup gruyere cheese, corned beef, sauerkraut and allspice in the bowl of a food processor. Pulse 5-7 times until the mixture is just barely chopped. You do not want to puree it.

Fold in ¼ cup plus 1 tablespoon of Thousand Island dressing.

Refrigerate mixture for at least 1 hour until it firms up a bit.

When ready to serve, evenly divide the corned beef mixture into each cup, mounding the tops slightly. I used a melon baller twice for each cup.

Bake the Reuben cups in a 350 degree oven for 15 minutes until they are nicely browned. Serve hot with the remaining Thousand Island Dressing or brown mustard on the side.
SaveSave
SaveSave