It is not a secret that I am a bit obsessed with Krusteaz products, especially the Honey Cornbread.  And….drumroll please…it also comes in a GLUTEN FREE VERSION. The reason I am so impressed with these products is that they are boxed mixes that are indistinguishable from homemade both in texture and taste. I am very, very picky when it comes to food. I was raised by a wonderful Mother who prided herself on never buying frozen or other prepared foods so I was unaccustomed to eating anything that was not fresh and homemade.
Despite all of my efforts to continue that tradition, a demanding job and three wonderful but busy children left me searching for ways to create great, tasty and healthy recipes using some (very few) time-saving products. This tomato cake is an example of combining the healthiest ingredients (fresh summer tomatoes) with a high-quality prepared mix. This soft, meltingly delicious corn bread cake topped with garlic and herb flavored tomatoes is just the perfect back-to-school dinner. Quick and easy and definitely a fan favorite.
The recipe starts by combining  and heating the garlic, herbs, butter and oil in the baking pan (disposable if you really want to save time!) and topping that mixture with layered tomatoes and the  Honey Cornbread mix.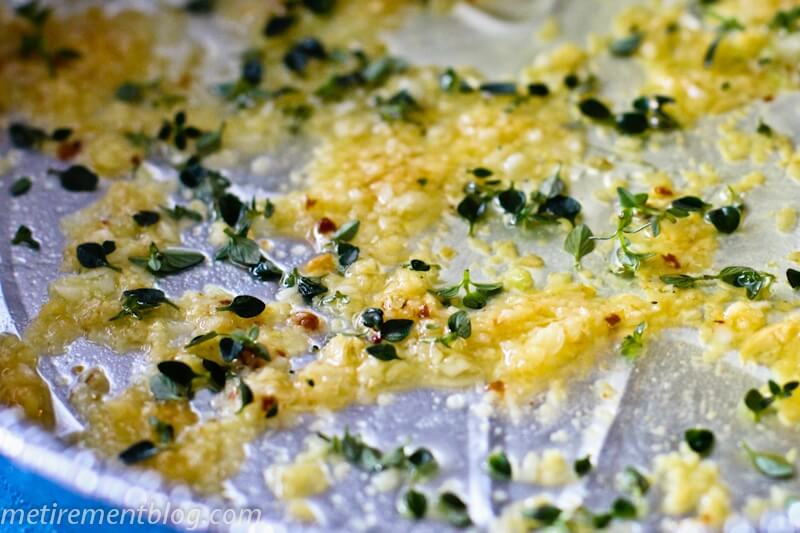 You can make this in the morning and refrigerate it and bake it later for dinner. I topped the cake off with maple syrup. I mean it is a cake, right? And believe it or not, the garlic and herbs with a hint of maple syrup is just perfect. End of summer deserves one last hurrah with tomatoes for sure.