Let's face facts here. Let's be honest with each other.  Isn't it true (sounds like a deposition question, right?) that you really only like that sticky, gooey, unctous, delicious, sweet, soft, smooth layer of pecan pie that sits above the buttery crust? I know they call it "pecan pie" but the good part is not really the pecans. They are just fine but they are NOT THE STAR OF THE SHOW. That sticky layer is. And with Thanksgiving just around the corner, it's time to give Chocolate Pecan Pie its due. Don't show up for the holiday without it. IMHO.
So I was thinking that the sticky layer needs to be bigger, thicker, richer better. And how does one do that? First of all you need corn syrup, of course. But if one kind of corn syrup is good, two kinds have to be better, right? Light and Dark. Check. And of course, it has to be Karo. Is there any other kind? http://www.karosyrup.com/products.html.  Thus, we call this Double Sticky Chocolate Pecan Pie because it is all that.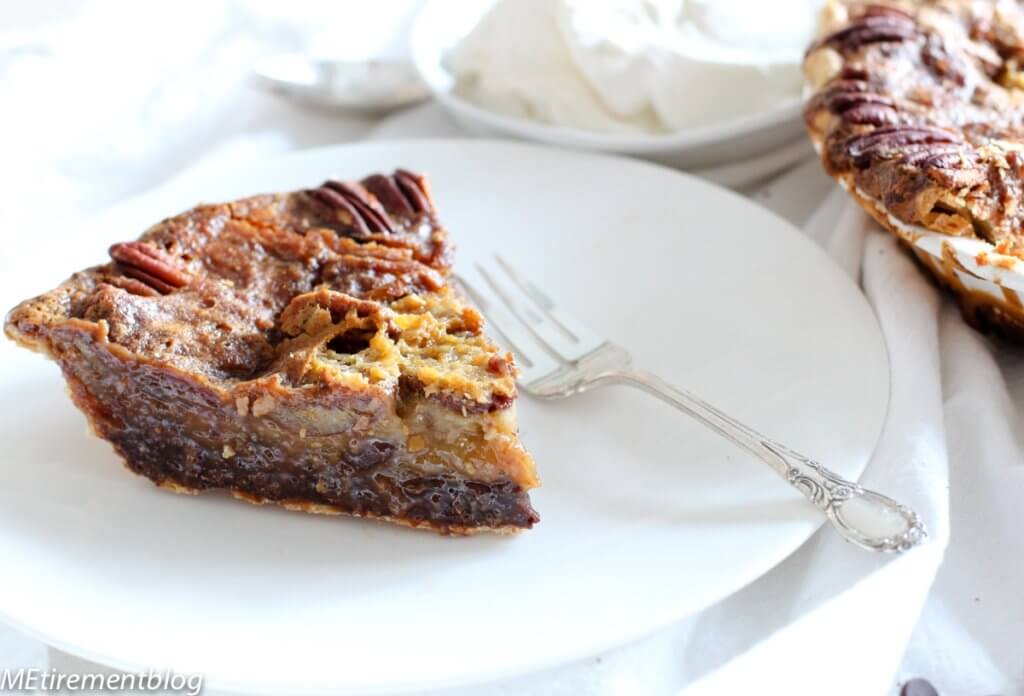 Then I was thinking that of course, the salty pecans are a good foil for all that sticky yumminess but for goodness sake, how can you have a dessert that shows up at a holiday that doesn't have chocolate in it? That cannot be. That cannot happen. Thus, we add the chocolate chips. The highest quality chocolate chips you can find. Like these from Valrhona: https://www.valrhona-chocolate.com/chocolate-chips.html
So that's all you need to know. Except that the crust must be all butter. Because it just must be. And I could not improve on Baker by Nature's amazing crust so let me just give her all of the credit here. http://bakerbynature.com/foolproof-all-butter-pie-crust/  
So this is a short blog post only because the pie speaks for itself. As if the pie wasn't perfect enough, I think that/I wish that you would top it with some Bourbon Whipped Cream.  And if this isn't the best Chocolate Pecan Pie you have ever tasted, then I will be so disappointed. I sincerely hope you and your guests will just be blown away by the pie that will change your view of holiday desserts from standard fare to double the goodness.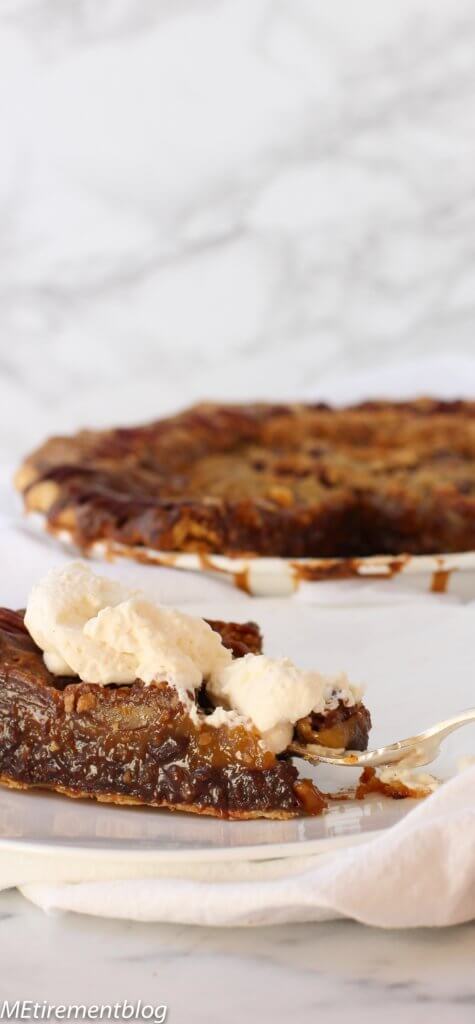 Double Sticky Chocolate Pecan Pie with Bourbon Whipped Cream
I don't mean to brag but it would not be true, candid or transparent if I didn't share with you the secret. This is the best Chocolate Pecan Pie you will ever eat. Please tell me in the comments whether you agree!
Cook Time
1
hour
20
minutes
Total Time
1
hour
35
minutes
Ingredients
For the pie:
6

tablespoons

butter at room temperature

1

cup

sugar

1

cup

Karo corn syrup

1/2

cup Karo dark corn syrup

1

teaspoon

vanilla

1

tablespoon

flour

3/4

teaspoon

salt

4

large eggs

1

cup

whole pecans

1 ½

cups

semi-sweet chocolate chips

1 9-

inch

all-butter pie crust

chilled and unbaked
Bourbon whipped cream:
1

cup

heavy cream

3

tablespoons

powdered sugar

1

tablespoon

bourbon

2

teaspoons

vanilla
Instructions
Preheat oven to 350 degrees and place one of the oven racks in the bottom 1/3 of the oven.

In a large mixing bowl cream the butter and sugar until it is light and fluffy, about 2 minutes. Add the syrups all at once and beat for 1 minute. Add eggs, one at a time until well combined and beat until the mixture is fluffy. Add flour and salt and beat for another minute.

Fold the pecans into the butter mixture or layer them over the top in a decorative pattern. Sprinkle the chocolate chips over the bottom of the pie shell and gently pour the pecan mixture over the chips trying not to disturb them.

Bake the pie for 40 minutes on a baking pan covered with foil to keep the pie from spilling onto the oven floor. After 40 minutes, place a piece of aluminum foil (sprayed with cooking spray to keep it from sticking) over the top. Bake for an additional 40-45 minutes until pie is just set.

The pie should be puffy but will sink when cooled. Let the pie cool completely before serving with Bourbon Whipped Cream
For the Bourbon Whipped Cream:
While the pie is cooling, chill the beaters and a medium mixing bowl in the freezer for at least an hour. Add all of the ingredients to the chilled bowl and beat the whipped cream until stiff peaks form.
SaveSave