What happens when the ingredients in the bowl are so unbelievably delicious that you eat half of the batter before it gets into the baking pan? Literally half. So, good news, you get two more sticks of butter and you DO IT ALL OVER AGAIN. This time you don't eat half, exactly. Because you are a bit concerned about the sugar and the chocolate chips and the butter etc etc etc and not getting the recipe finished in time to do a blog post.
Phew. That is the lead in to "how my day was" in the life of a MEtired blogger. Let me tell you one thing about MEtirement and how it has morphed into a real life for me. With a real schedule involving daily pick-ups at preschool to see a precious grandchild every single day. This daily task, and the opportunity to see her little sister when I drop off my little schoolgirl, is the absolute highlight of my day, life, everything. My days revolve around them and the unexpected thrill of suddenly reliving what I thought I had lost when my children grew up and left home is just beyond explanation.
MEtirement started out home alone. Learning how to blog. Getting frustrated because all of my thoughts were getting tangled up in the technical aspects of blogging. A year ago I had not even heard of WordPress. And now I have found a comfortable way to navigate through the obstacles so that I can express what it means to leave the workforce and spend the days doing whatever I want.  What I want, I have come to find out, is to enjoy my grandchildren in a way that unfortunately, I didn't have the time to when my children were little. I was always working. Always stressed. Always on the go. Thank goodness there weren't any cell phones then or it would have been hard to resist the pull of work when I was not in the office.
Now, life is simple and so much more meaningful. I have an opportunity to really listen to the children whose company I crave and for whom I am eternally grateful. So this MEtirement thing has taken on a new dimension; one which I could not have predicted but which gives me more satisfaction than any day at work did. If only we could all stay home and have the time to raise our children with no distractions or other demands on our time. However, that is not the way the world works so, short of winning the lottery, you have to find the balance between turning off everything but the sound of your childrens' voices and having to earn a paycheck so you can feed the little darlings.
Which brings me to baking and eating and spending time in the kitchen. Today it is these absolutely fantastic white chocolate blondies which are covered with a crumbly pillow top and extra white chocolate which roasts in the oven and browns to give the blondies an extra layer of toasty flavor. These are really simple to make so whip up a batch and send them in your little ones' lunchboxes. Maybe they will eat their veggies too but if not, they have at least had a treat that will elevate your status to mother/father/grandmother of the year.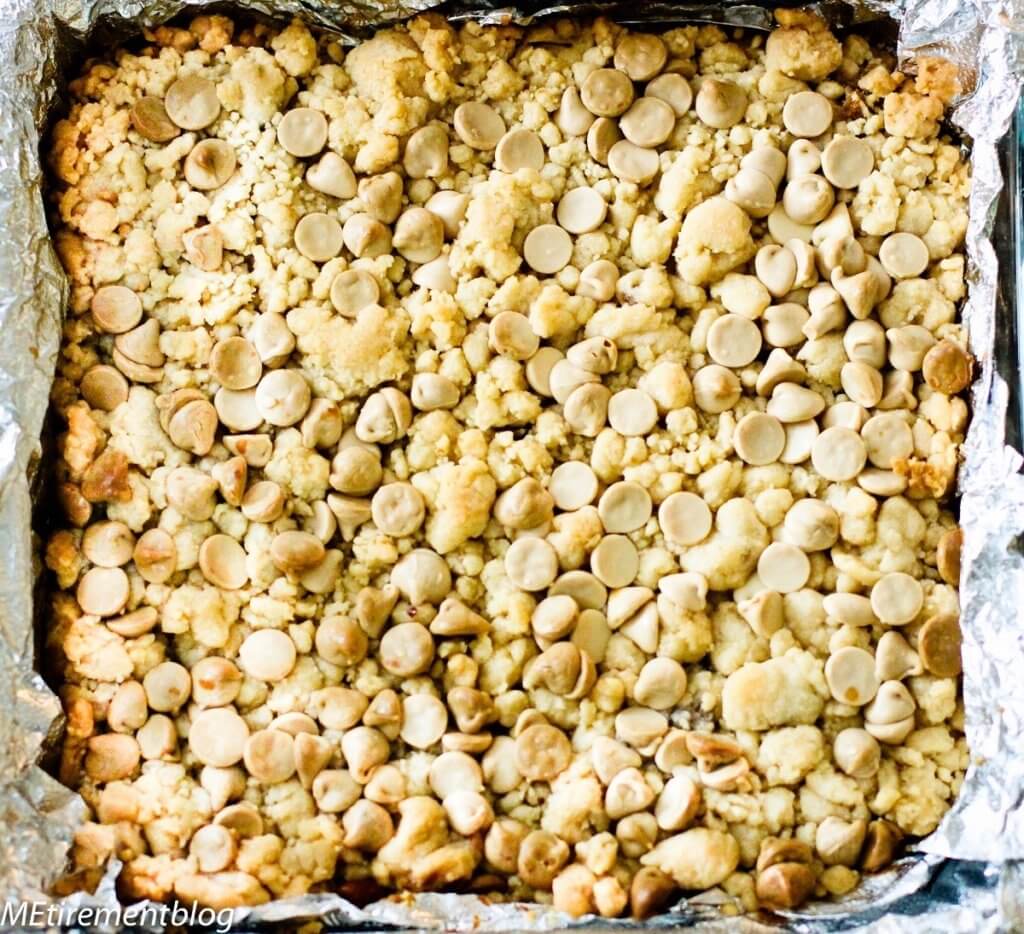 Here you go. Buttery Roasted White Chocolate Blondies with Crumb Topping. You're going to thank me for making your day!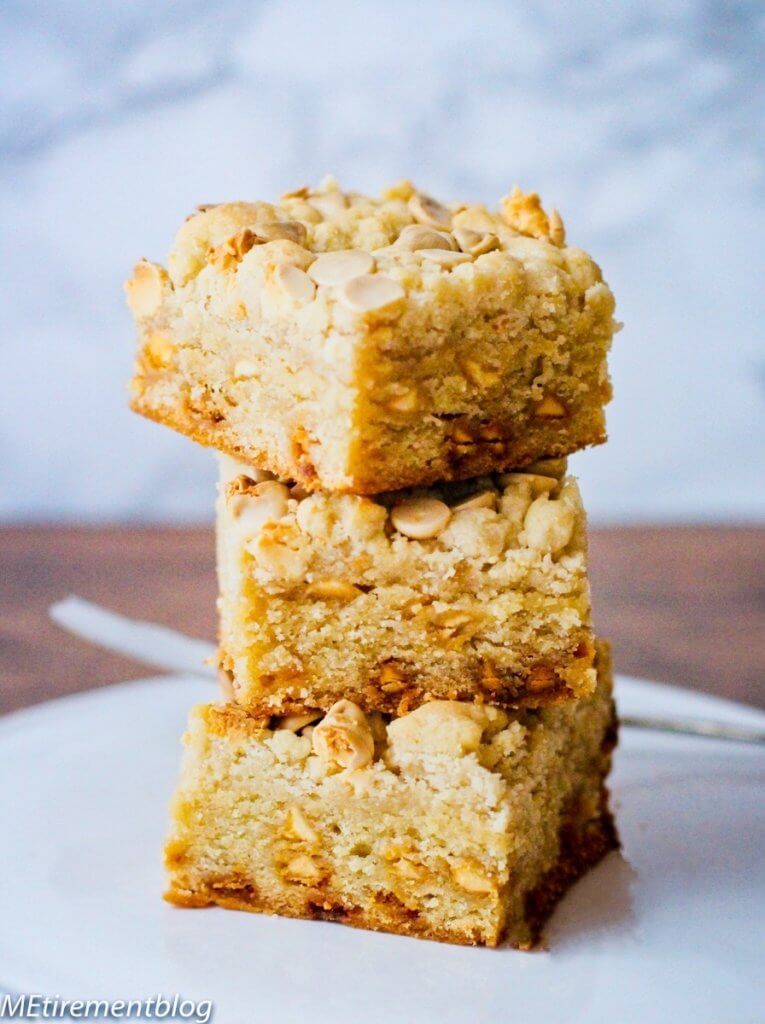 Buttery Roasted White Chocolate Blondies with Crumb Topping
Almost like a shortbread. Almost like a blondie. Almost like a crumb cake. This combination of slightly salty and sweet, smooth and crumbly and full of vanilla is a bar that should take its place in your best recipe collection.
Total Time
1
hour
5
minutes
Ingredients
For the crumb topping:
2

sticks unsalted butter at room temperature plus 1 tablespoon for buttering the baking pan

¼

cup

dark brown sugar

¼

cup

granulated sugar

¾

cup

confectioner's sugar

1

tablespoon

real vanilla

½

teaspoon

salt

2 ¼

cups

flour

½

cup

white chocolate chips for topping
For the blondies:
Crumb topping mixture above

1

egg

1

teaspoon

baking powder

1 1/4

cups

white chocolate chips
Instructions
Preheat oven to 350 degrees. Line an 8x8 inch glass baking pan with two sheets of aluminum foil, one going in one direction and the other in the other direction like a cross. Butter the foil with the 1 tablespoon of butter. Set aside.

In a large mixing bowl, beat the butter, brown sugar, granulated sugar and confectioner's sugar until the mixture is light and fluffy, about 2 minutes. Add vanilla and salt and beat until just combined. Add the flour all at once and beat at low speed for a minute until the flour becomes crumbly like a crumb topping.

Remove 1½ cups of the butter mixture to a small bowl and refrigerate until the blondie batter is ready.

To the remaining mixture in the large bowl, add the egg and baking powder and beat the mixture for a minute until the mixture is no longer crumbly. Fold in 1 1/4 cups of white chocolate chips.

Carefully spread the blondie batter into the baking pan making sure to keep the foil flat against the sides and bottom of the pan. The batter will be thick.

Bake the blondie mixture for 20 minutes and remove from the oven.

Crumble the topping all over the top of the blondies and then sprinkle them with ½ cup of white chocolate chips. Bake the blondies with the crumb topping for 30 minutes. Check to see if the top is a light golden brown as the white chocolate chips should be just lightly roasted.

Remove pan from the oven and let cool for at least an hour before cutting into squares.

You can serve these with a glass of milk or top with vanilla ice cream and hot fudge sauce.
SaveSave
SaveSave
SaveSave