Don't stop reading when you see Brussels Sprouts. Please. These are the best Brussels Sprouts you will ever eat even if you don't like Brussels Sprouts. Let me tell you a true story which will prove my point. About ten years ago I was discussing food with a friend of mine and he said he absolutely hated Brussels Sprouts and they would never cross his lips. I bet him that he would not only eat my Brussels Sprouts; he would actually like/love them.
When I brought him a bowl of them (to the gym, funny enough), he proceeded to eat the entire bowl and admit that maybe he was wrong. He only remembered the soggy, overcooked frozen ones his mother made. Now he had his eyes (and tastebuds) opened and he has love them ever since. However, he says it has to be these exact ones because he isn't entirely converted.
These Brussels Sprouts are just tender and creamy and flavored with fresh thyme and nutmeg. They are perfect for an everyday dinner or because they are so dressed up  they can be invited to Thanksgiving or Christmas dinner. Think of them as Brussels Sprouts in a tuxedo!
The good news is that despite the fact that they are so creamy delicious, the sauce is made of Fat-Free Half and Half from Land O' Lakes. When you add just a tablespoon of cornstarch to fat-free half and half, it turns into heavy cream. Well not really but the effect is exactly the same without any of the fat or calories.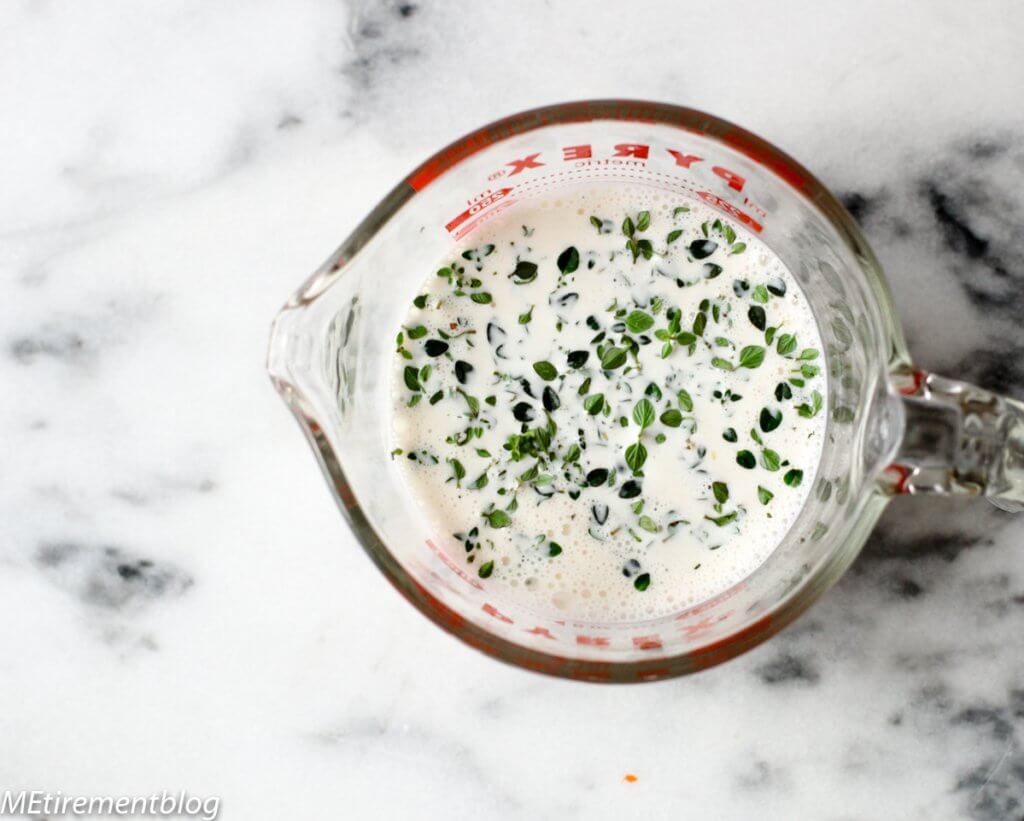 To make them all you do is saute a minced onion or some shallots (I prefer shallots) in a bit of olive oil, toss in the brussel sprouts and let them dance around for a few minutes. A bit of chicken broth or water (for a vegetarian option),  let them steam for just 5-6 minutes and then they are finished with the half and half and the seasonings. All done. And even the most die-hard Brussels Sprouts haters (kids, that's you) are going to love these.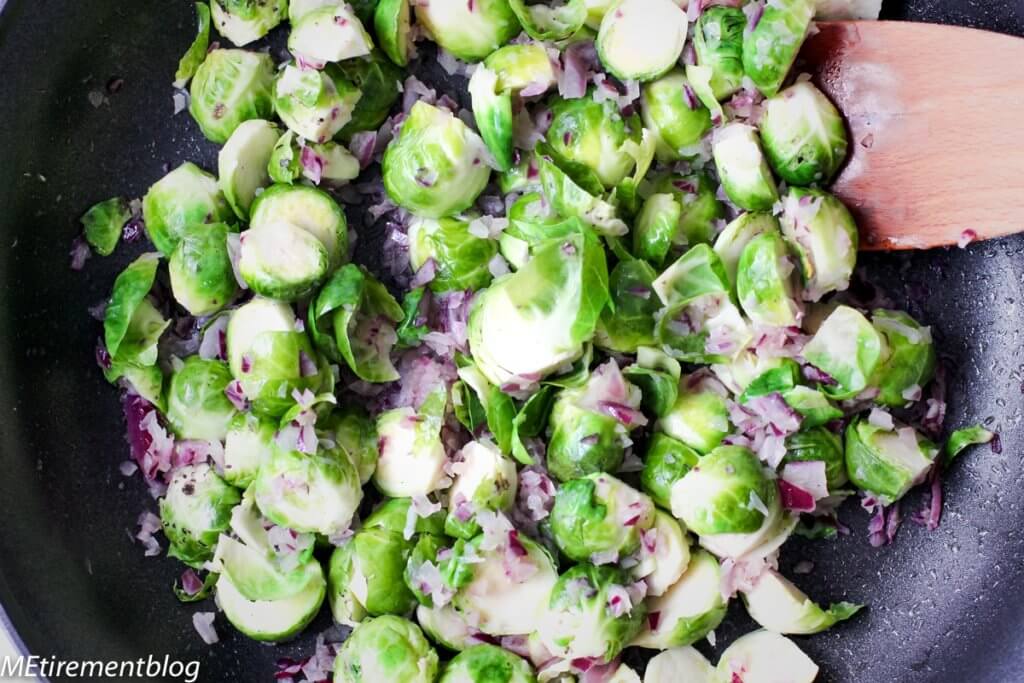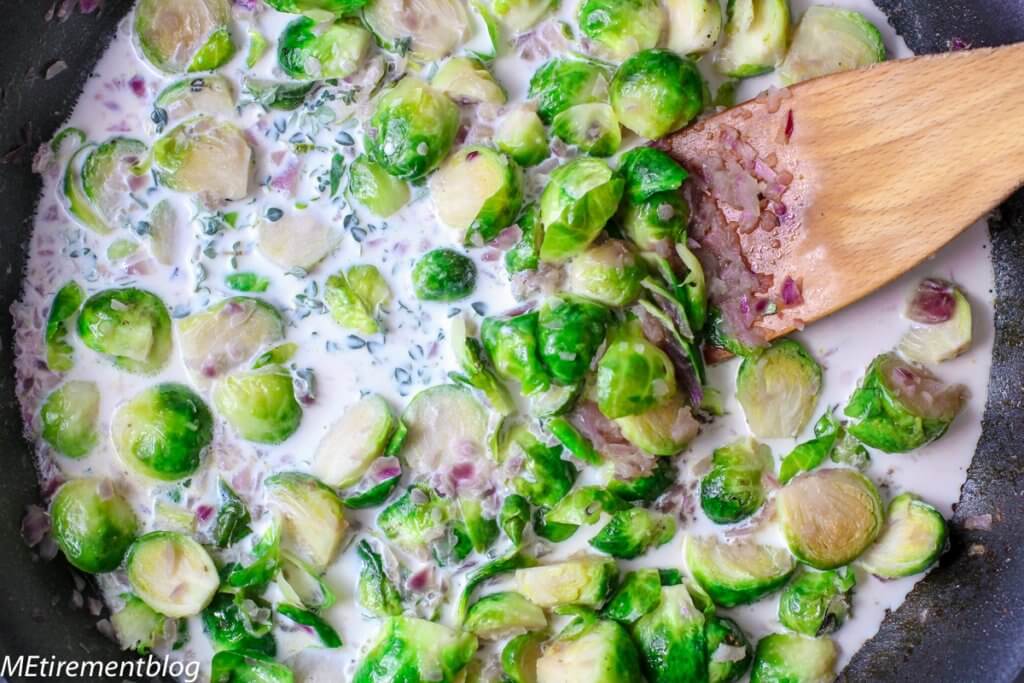 I will be posting a lot of Thanksgiving ideas over the next few weeks here and there so you can think about your menu.  The turkey is always a given, as is the stuffing. But there is some flexibility and creativity when it comes to side dishes so I will keep those coming. And I might even reveal the most secret recipe my family ever had. It was like a trade secret. My mother's Thanksgiving stuffing was her most prized recipe and the one that always got the most attention. She has only been gone for six years and every single time I make that stuffing, I think that she is right there coaching me on the finer points of how to make it perfectly.
My love for Thanksgiving will be a part of these blog posts because when you have a passion for something (mine is food in general and Thanksgiving in particular!) I think you really give it your all. So check back and see some brand new Thanksgiving ideas, many of which come from my mother who, despite having a full time job in the 1950's and 1960's, always managed to make Thanksgiving like a Norman Rockwell painting.
Enjoy the Brussels Sprouts and please let me know in the comments below if I have any former haters who have now joined  the Brussels Sprout lovers' club.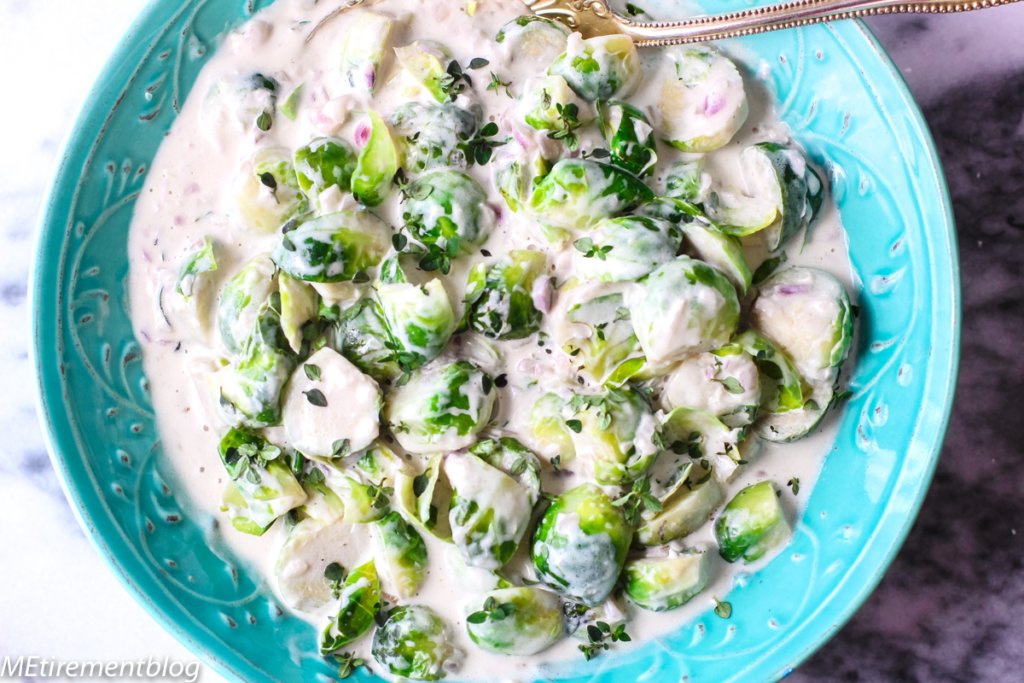 The Only Brussels Sprouts Recipe You Will Ever Need
This recipe is for lovers of brussels sprouts and for those who claim not to like them. Once you taste these you will change your mind and embrace them. These should have a place on your Thanksgiving or Christmas table. You will be surprised at how many people like them.
Ingredients
10

ounces

brussels sprouts

washed, trimmed and halved

2

tablespoons

olive oil

2

shallots or 1 medium onion

finely minced

1/3

cup

chicken stock or water

1

cup

Land O' Lakes Fat Free Half and Half

1

tablespoon

cornstarch

2

tablespoons

fresh thyme leaves

or 1 tablespoon dried

1

teaspoon

nutmeg

salt and pepper
Instructions
In a large sauté pan over medium high heat, add olive oil and shallots or onion. Saute for 3 minutes until they are translucent. Add brussels sprouts and sauté for 5-6 minutes until the sprouts just start to soften and brown.

Add the chicken stock or water and bring the mixture to a boil. Cover the pan and let the brussels sprouts steam for 7-8 minutes until they are cooked but not mushy.

Uncover the pan and lower the heat to medium. Whisk the half and half and cornstarch together until completely smooth. Add the thyme, nutmeg and salt and pepper to the mixture and pour over the brussels sprouts all at once. Stir well and let the mixture come to a simmer. Continue stirring just until the mixture has thickened.

If the sauce is too thick you can a add a bit more half and half.
SaveSave