Here we go. A real Holiday dinner recipe. Suggestion #1. Always have a lot of appetizers. People feel OBLIGATED to absolutely pig out during the holidays. The healthy gurus warn you and warn you and warn you and give you tips about drinking three gallons of water and eating carrots before stepping foot into a holiday party BUT NO ONE EVER LISTENS. It is all hollow advice. No offense to all those well-meaning health experts. But getting people to change their behavior when the holidays come but once a year is a futile exercise in my humble opinion.
So what is a healthy-minded person to do? You cannot eat carrot sticks every day in December. And by that I mean, ONLY carrot sticks. That is definitely not going to happen. And on the other end of the spectrum, most responsible adults know that you cannot stuff yourself with 4,000 calories a day consisting of bourbon, cream cheese, whipped cream, Brie, puffed pastry and chocolate whatever.
What is the answer to this annual conundrum????? Simple. Indulge, indulge, indulge but make sure everything you are eating is a balance between the utmost in tasty, delicious dishes and relatively healthy ingredients. I can show you how to do this and still end up with a fabulous dinner that will not be a heart attack on a plate.
Today we have a healthy, hot and creamy dip made of broccoli. No kidding. You will never know this is "healthy". More importantly, your family and friends will not think they went to a yoga retreat instead of holiday dinner. This is healthy folks. But not "HEALTHY" in that bran, chia seed, hemp seed, protein shake way.  You can go back to all of that in January. Let me get you through December feeling indulged but not poisoned with fat. Kidding.
Before I get to the recipe, I have a question for everyone. I am wondering if all bloggers are at risk of freezing to death in the winter? Is pneumonia a blogger job hazard? The reason I am wondering is that the first thing you learn when you start blogging is a universal rule. Thou shalt ONLY TAKE PICTURES FOR A BLOG AND INSTAGRAM IN NATURAL LIGHT. This rule is repeated over and over again because failure to abide by said rule means that your photos are yellow, orange or mud brown. And how do I know this? I am embarrassed to reference my early blog photos before I had a fancy lens and before I knew anything at all about photography. Not that I am so proficient at it now but at least my photographs are not yellow anymore. That yellow, orange, mud palette may be good for landscape photography but clearly, it is a no go when it comes to food photos.
So most days now, I am freezing when I am outside in gloves and a ski jacket taking a picture of olives in a container. I take photos on my deck and I am quite sure my neighbors think I have completely lost my mind. I am standing on chairs, teetering over the edge of the deck, the wind is blowing like crazy and it is 20 degrees out. But you know what? MEtirement has been good to me. I am developing my VOICE on this blog. I am comfortable with my little audience. I am optimistic that as people find the blog, I will find a way to connect with them.
This is not a hobby. This is my new life. I am loving the writing. I am studying the art/science of blogging every single day. I devour every book, article and video I can find. And while some might call  this WORK, it definitely is NOT WORK. And the reason why that is that I CHOSE THIS. Most people have no say in what they do to earn a living. Someone else tells them what to do. So while my blog is time-consuming, I would never call it or think about it as WORK.
Now to my healthy creamy dip. It is simply made. First, you have to buy broccoli. Now that I am MEtired I actually had the time to notice that you can SAVE MONEY on broccoli. Broccoli Crowns, $1.49 A POUND. A WHOLE POUND of perfect florets.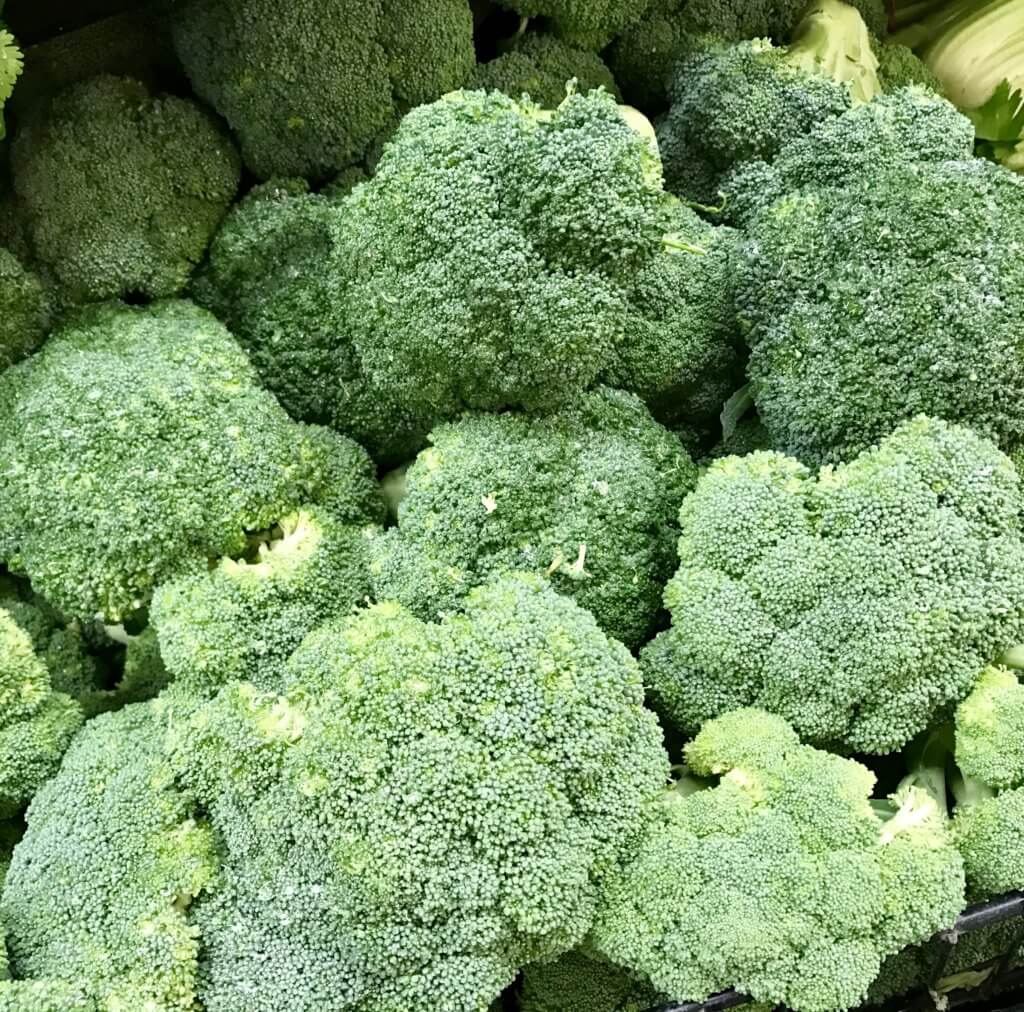 Measly, anemic bunch of broccoli? $1.99 a BUNCH. I am not a big fan of using woody, broccoli stalks (except if I don't like the person I am cooking for–KIDDING). So…if half of the BUNCH of broccoli is going in the trash (don't judge me), you might as well buy those nice crowns.  You quickly blanch the broccoli  in boiling, salted water and give it a quick ice bath to fix its green glory.
Once the broccoli is blanched, set it aside.
TIP AND TRICK–SAUTÉING IN YOUR MICROWAVE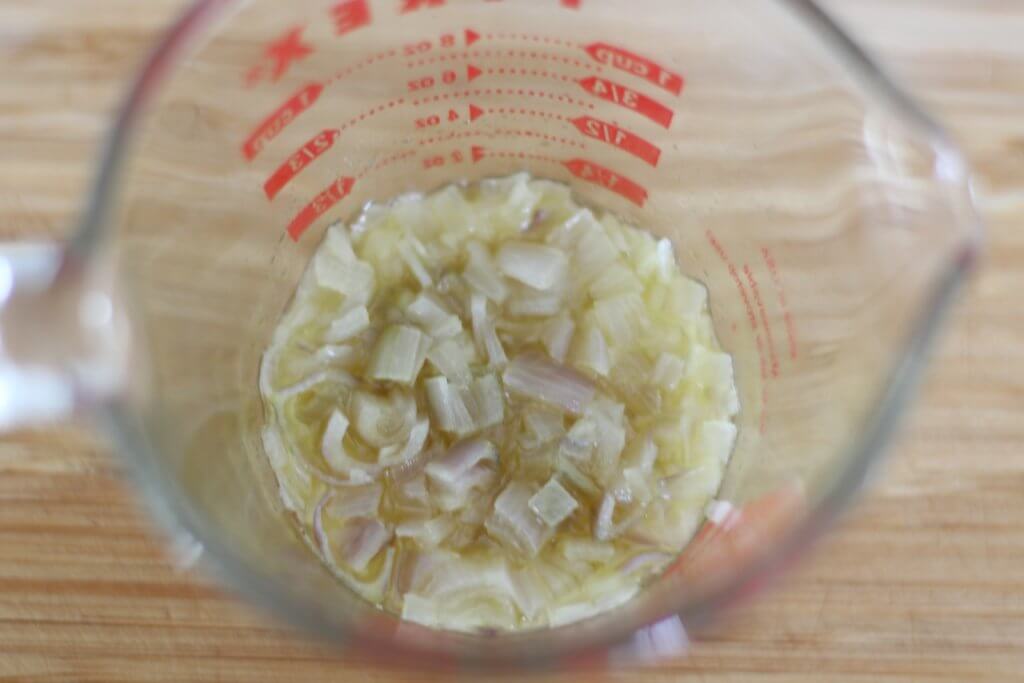 You are going to "saute" the shallots in garlic in the MICROWAVE. Yep. I am all about saving pots and pans for real cooking. I always "saute" aromatic vegetables like onions, leeks, garlic and shallots in the microwave if I don't need them to be browned. That's a whole different story. But if just need to get aromatic vegetables to a translucent stage, the microwave method is for you. You just put a little olive oil in a heatproof cup (Pyrex, in other words…is there any other kind? I have had my Pyrex cups for years and years and years), add the shallots and garlic and stir until the oil coats the vegetables. I use this method when making salsa because I HATE RAW ONIONS in salsa. Salsa will come later. It IS red and green so maybe sooner rather than later!
You microwave the shallots, garlic and oil for just two minutes. Because shallots are milder than onions, two minutes is all they need.Then you make the creamy dip mixture in the food processor. It is, of course, green and red (not JUST green and red but plenty of that to count as a holiday dish within my THEME). Once again, I gravitated to the Kroger olive bar and bought 8 ounces of mixed olives, roasted garlic, and Peppadew peppers.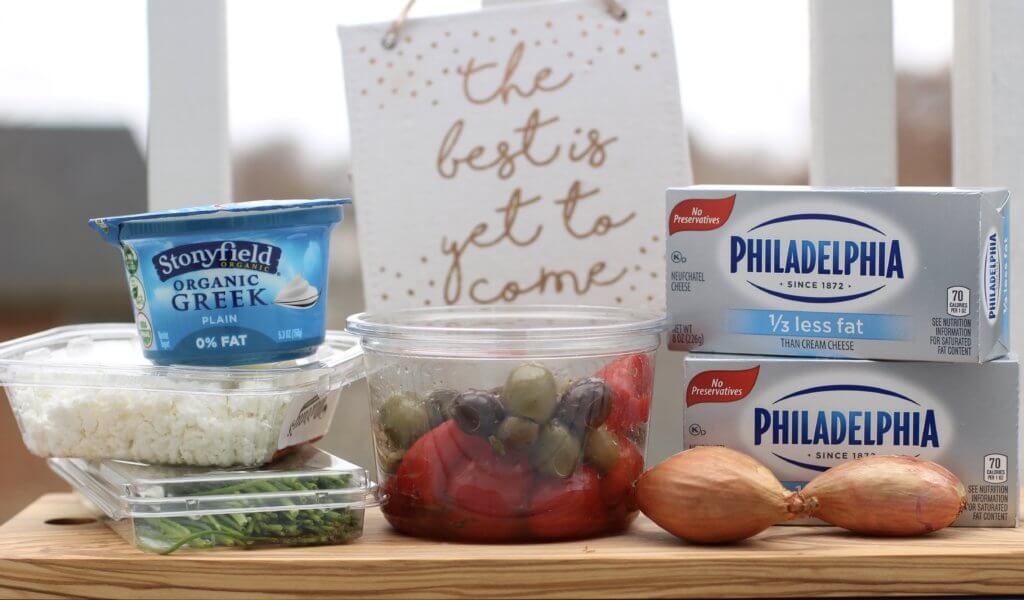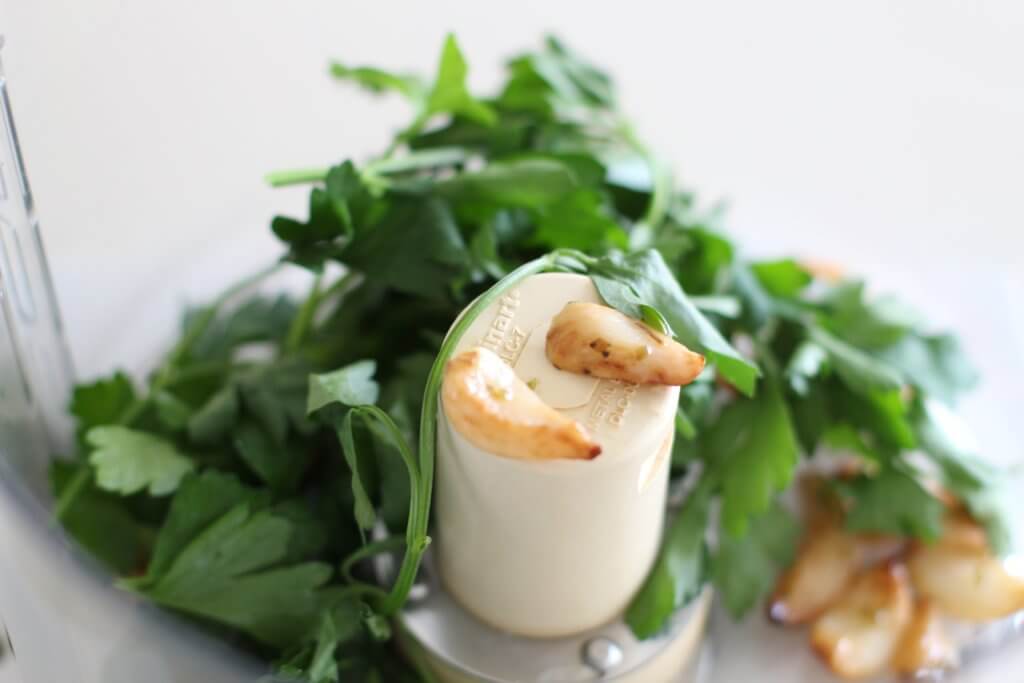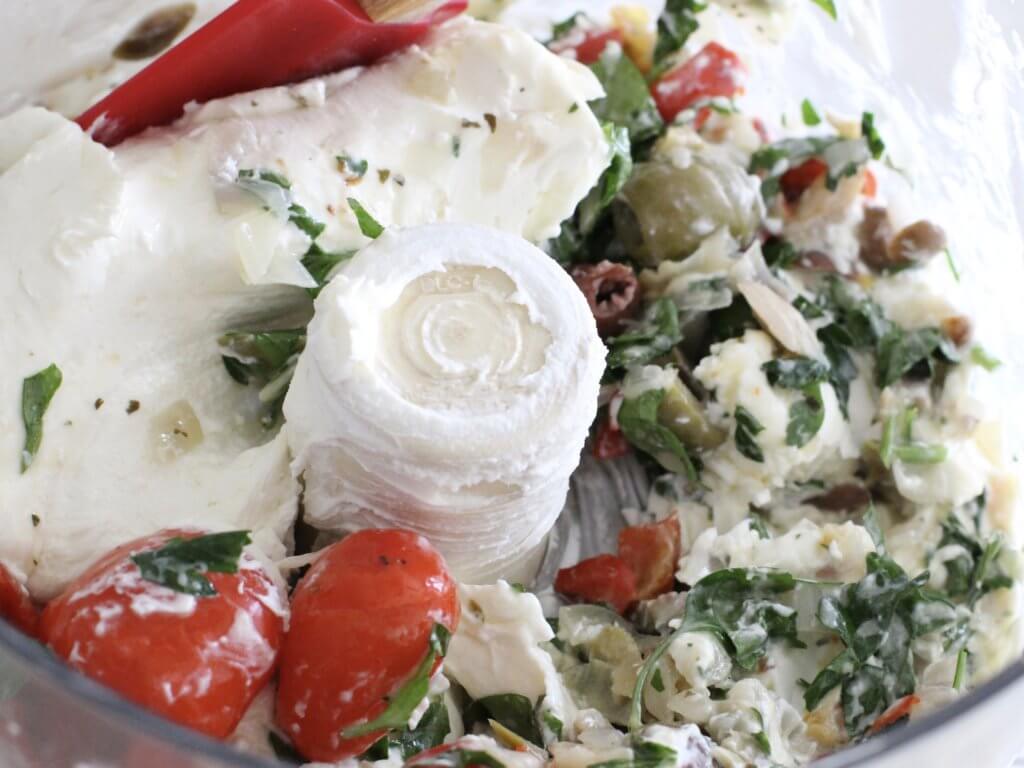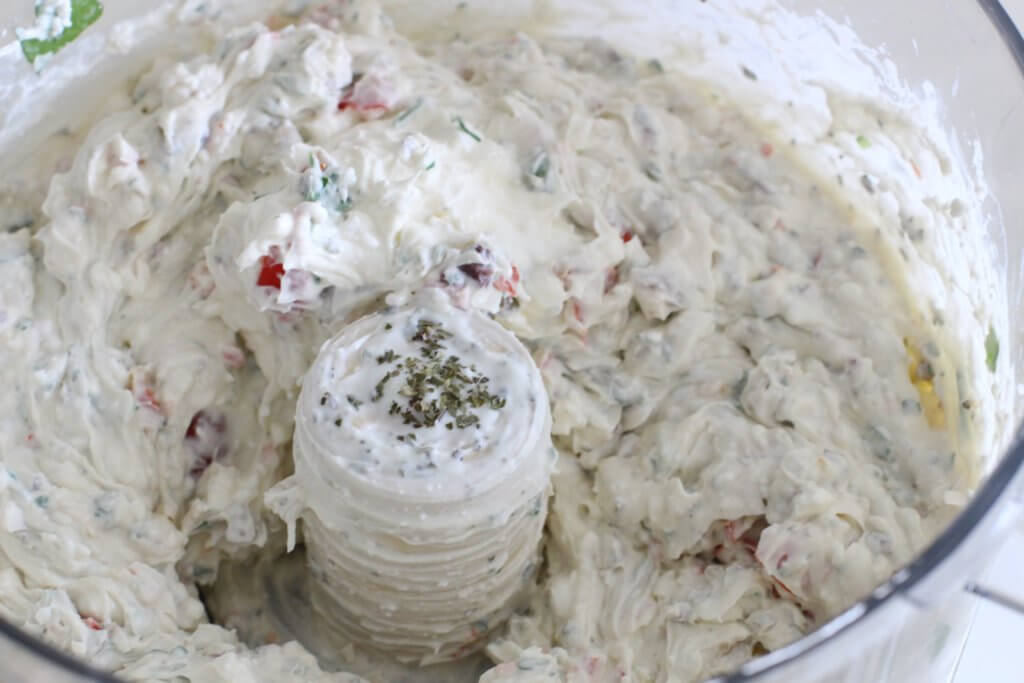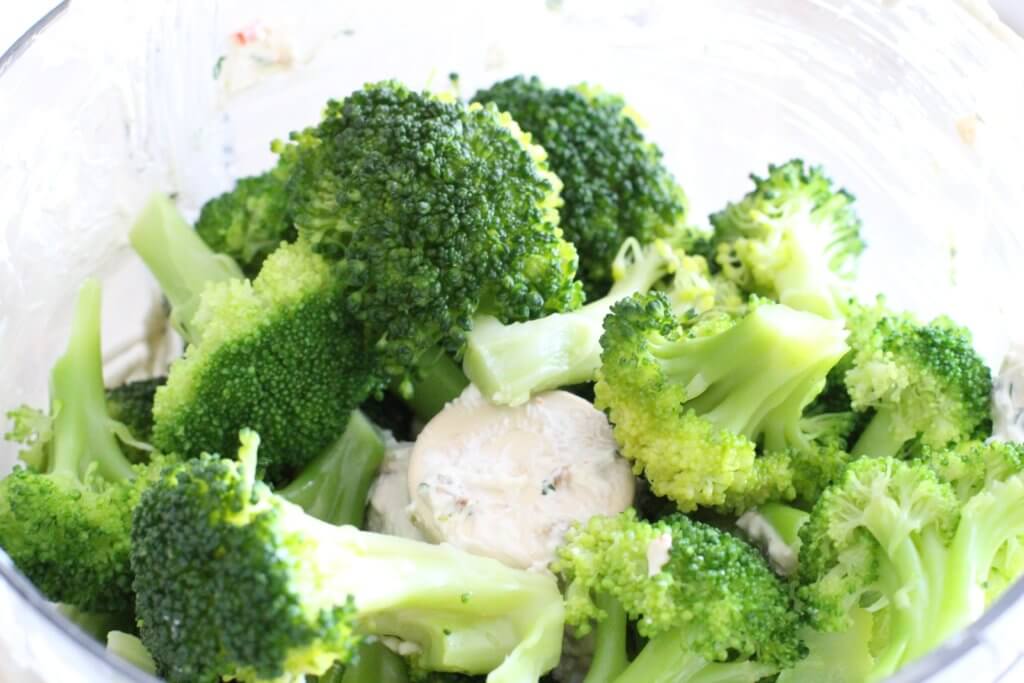 Once the dip is in the baking dish, you add the broccoli back into the food processor and just give it a few pulses.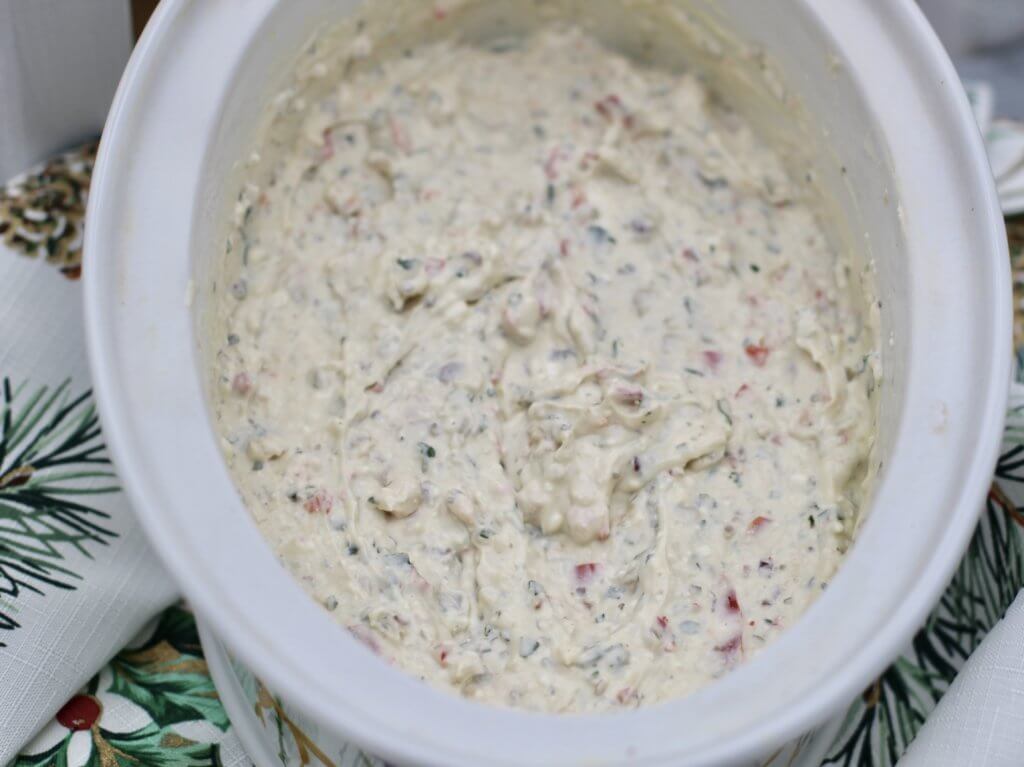 You DO NOT, and I mean DO NOT puree the broccoli. Pulse, pulse, pulse, Stir. Pulse again and you are done. If you cannot restrain yourself and you feel like you are going to pulse too many times, get a friend to pulse for you if you don't trust yourself!!! The broccoli cannot be mush. It should be chopped in nice little pieces. You can even do it by hand if you want.
Why do you put the broccoli into the food processor AFTER you take the creamy dip mixture out? What a good question. The reason you do this is that the dip will be baked in a baking dish all by itself (it can be made 1-2 days ahead) and the broccoli and sweet pickled banana peppers (also known as pepperoncini) will be added at the last 10 minutes of baking just to heat them, not to cook them.
Once again, you do not want soggy, overcooked broccoli in this dip. ANNNND…one more thing. The reason you add the broccoli for its quick chop in the food processor after you make the dip is that I HATE TO WASH DISHES and I especially HATE to wash the food processor. And when you add the blanched broccoli after the dip is scraped into the baking dish, it gets some of the dip off of the walls of the food processor. So there….a confession.
Considering this is a dip made out of pretty bland ingredients, I have added enough interesting ingredients to kick it up a bit. No one will say this dip is bland. Everyone will say it is festive in its color presentation and unusual in its flavors (unusual in a good way!).  You can be quite creative when it comes to finding dippers. Carrots and celery sticks work well (especially if the grocer has the pre-cut ones!) but I experimented with two new varieties of  Good Thins crackers from Nabisco  which were quite good accompaniments. Pita chips also work well with this dip since it has a bit of a Mediterranean twist to it.
As a beginning blogger, I do not have a set of wonderful props such as all of the things found in the Williams Sonoma or Crate and Barrel catalogs. In fact, it is no wonder that all of those marble slabs, serving platters, and other objects that make blogs and Insta so attractive to food stylists. Not there yet. I don't own a lot of Holidayware (truth be told, I own none) but I did figure out today that you could line a platter with Holiday tissue paper and it would look quite attractive. How about that? Lawyer turned set designer. Well, not yet but the dip did look pretty festive set against a sea of red (get it, the RED SEA??!!).
Next post, a Christmas salad and then on to the main course of red and green something. It will be a big surprise (even to me!!).
Healthy and Creamy Broccoli Feta Yogurt Dip
Vegetables usually do not play a big role in holiday appetizers so this dip will bring a healthy and different vibe to your holiday party! You can make this dip 1-2 days ahead, refrigerating the broccoli and the cream cheese mixture separately. You will add the Tabasco, banana peppers, lemon juice and juice from the banana peppers at the end along with the broccoli to keep the colors and flavors bright and vibrant.
Ingredients
1 1/2

pounds

broccoli florets

cut into even pieces

2

tablespoons

salt

for the water

1

tablespoon

olive oil

2

large

shallots

finely minced

3

cloves

garlic

finely minced

1 1/2

tablespoons

dried oregano

rubbed between your fingers to release the oils

8

ounces

mixed, pitted green and kalamata olives and roasted garlic cloves

from the supermarket olive bar. If you can't find roasted garlic, roast two heads of garlic as explained below before proceeding with the recipe.

1/3

cup

Italian parsley leaves only

2

8-ounce

bars of Philadelphia cream cheese

Softened at room temperature. I use reduced fat (not fat-free)

6

ounces

feta cheese

I used Bulgarian but any salty feta will do

2

5.3 ounce

cups Stonyfield Farms Greek Yogurt

1/3

cup

sweet pickled banana peppers

roughly chopped

juice of one lemon

1/4-1/2

teaspoon

Tabasco sauce

the red sauce. Use the smaller amount if you don't want the dip too spicy

3

tablespoons

juice from the sweet pickled banana peppers

1/4

cup

finely chopped chives
Instructions
Fill a large bowl that will hold all of the broccoli with cold water and some ice cubes.

Bring a large pot of salted water to a rolling boil. Add the broccoli florets and when the water comes back to the boil, cook for two minutes. Immediately drain the broccoli and plunge into the ice water for one minute. Drain, dry and set aside.

In an 8 ounce Pyrex measuring cup, mix the minced shallots, the minced garlic and the oil. Microwave on high for two minutes and set aside.

In the bowl of the food processor, first put the roasted garlic cloves you purchased on the olive bar. If you don't have them, roast two large heads of garlic wrapped in foil and coated with a little olive oil in the oven at 350 degrees for 45 minutes. Once roasted, process them in the food processor along with the parsley.

Add the mixed olives and Paquillo peppers to the bowl and just pulse them a few times until they are barely chopped but make sure there are no large pieces. Add the softened cream cheese, the microwaved shallots and garlic, oregano and feta cheese. Pulse the mixture until it is just mixed and put in a baking dish. I used a 9" x 4"x 4" decorative ceramic dish but you could use an 8" square glass baking dish.

At this point you can refrigerate the cream cheese mixture and the broccoli separately for up to two days. Once you are ready to serve the dip, remove all of the ingredients from the refrigerator at least an hour before baking.

Preheat the oven to 375 degrees. Bake the cream cheese mixture, covered with foil for 20 minutes until it is bubbling hot.

Increase the oven temperature to 400 degrees, remove the dish from the oven and add the banana peppers, the juice from the banana peppers, lemon juice, chopped broccoli, Tabasco and chopped chives. Stir well and put back in the oven for 10 minutes until it is just bubbling. You want the dip to be hot but you do not want to overcook the broccoli.

Serve the dip with carrots and celery and pita chips. You can also use herbed crackers which will enhance the flavors of the dip.