If you are still looking for a great, festive brunch dish that can be made the night before, these Festive Holiday Ham Brunch Muffins with Eggs, Spinach and Goat Cheese will just thrill you to pieces. The spinach and slightly spicy Piquillo peppers add a pop of red and green color to each of the ham "muffins", making them a really attractive and delicious addition to your brunch menu.
These are a nice break from the usual egg casserole and you avoid the mess of having to cut up pieces from a serving dish. The first piece always looks nice and neat but then it starts to get a bit messy. Here, every person gets their own little basket of ham filled to the brim with delicous eggs, cheeses and veggies. It's elegant without the fuss.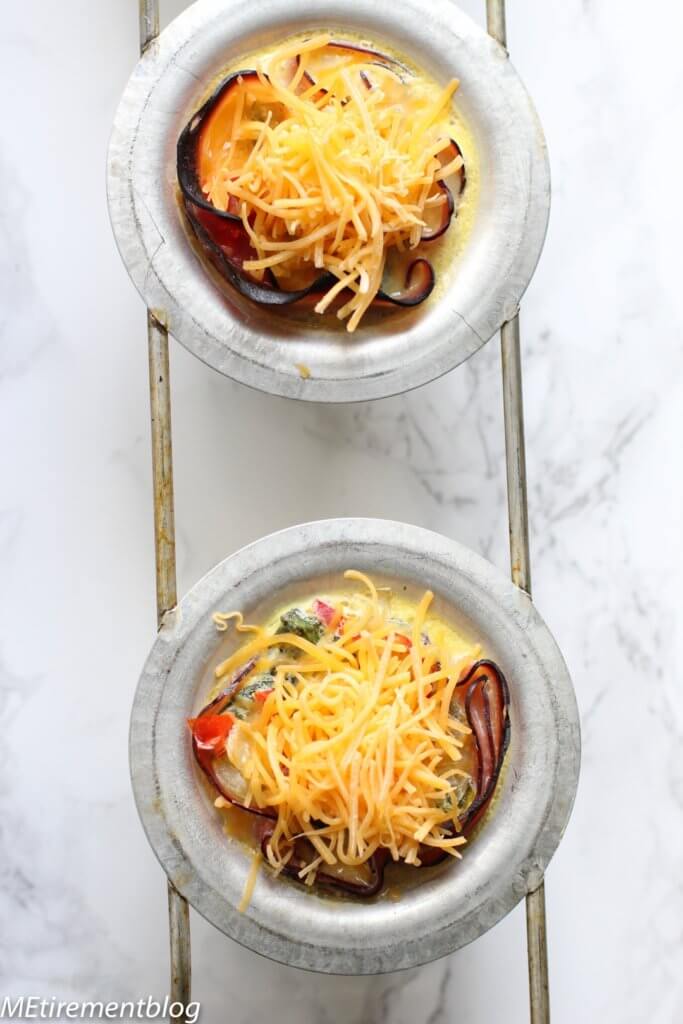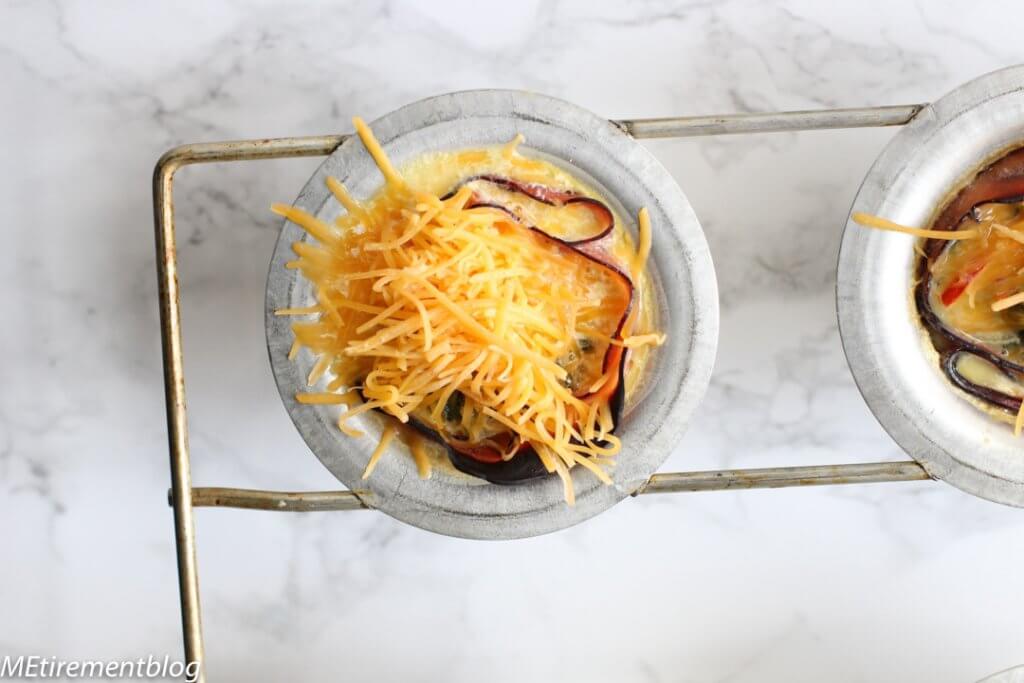 Start a new tradition and make these your Christmas go-to addition to any brunch menu. If you are planning on having a lot of cinnamon rolls with cream cheese frosting (I am), this protein and veggie basket of deliciousness will add a touch of savory (thank goodness) to what would otherwise be just one big carb fest. Nothing wrong with sweet rolls (I love them!) but you must have some eggs to go with them. Santa says.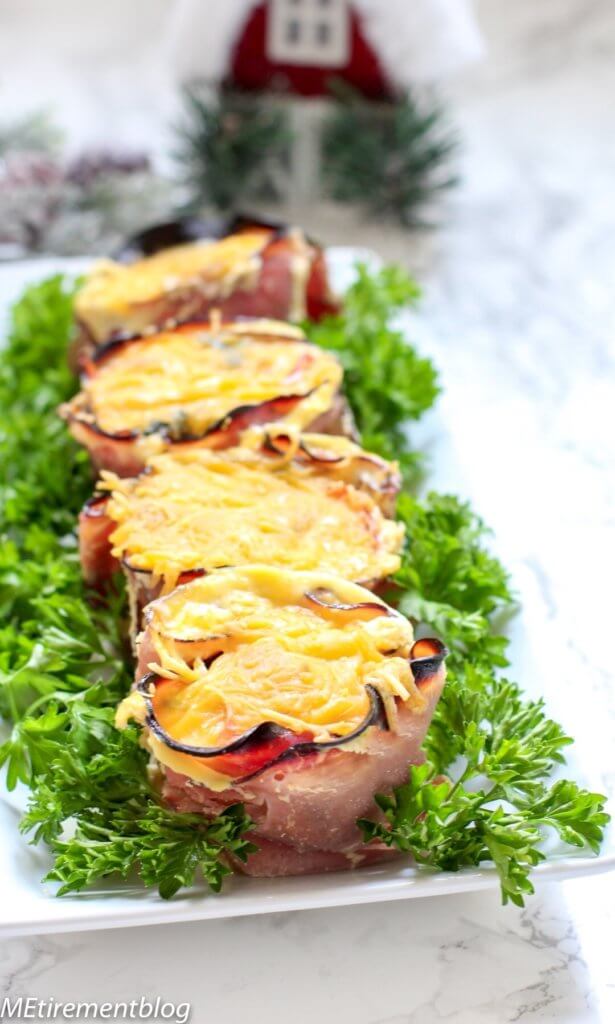 I hope you find these unique and delicious "muffins"are  as big a hit with your family as they are with mine.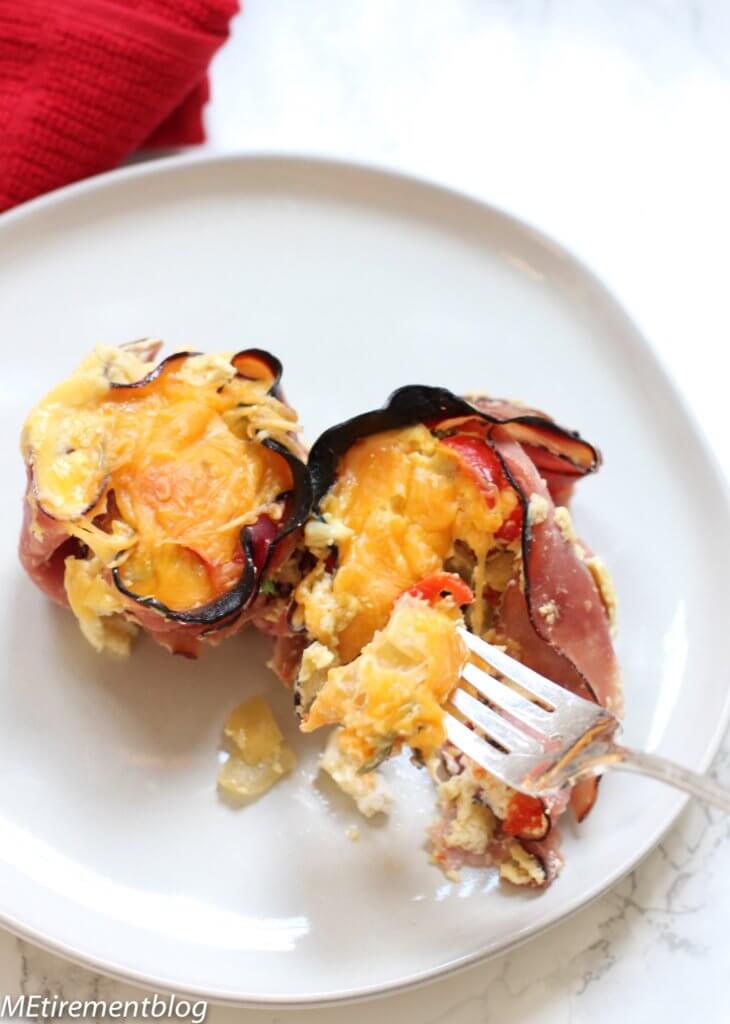 Festive Holiday Ham Brunch Muffins with Eggs, Spinach and Goat Cheese
These bake in popover pans and the ham forms a little basket around the egg and cheese "muffin". They look festive and fancy but take hardly time at all. You can make the filling the night before and refrigerate it in a bowl. In the morning just line the buttered cups and finish baking.
Ingredients
24

thin slices honey baked ham

butter for greasing the muffin pan

1

tablespoon

olive oil

1/2

onion finely diced

1

bunch spinach

stems discarded and leaves thinly sliced

½

cup

Piquillo peppers

thinly sliced

4

oz

goat cheese

4

eggs

1 ½

cups

half and half

regular or fat-free

¼

teaspoon

salt

½

teaspoon

freshly grated nutmeg

1/3

cup

parmesan cheese

6

oz

sharp cheddar

shredded
Instructions
Preheat oven to 375 degrees and butter a popover pan. Place the pan on a cookie sheet to prevent spillover.

Lay 3 slices of ham in each cup, offsetting the slices so they form the petals of a flower. Press the slices into each cup, pressing them against the sides. The ham slices should be intact with no holes to avoid the filling leaking out.

In a medium sauté pan over medium heat, heat the olive oil. Add the onion and sauté until the onion is translucent and just starting to brown. Add the spinach and Piquillo peppers and sauté for only a minute or two until the spinach is just wilted. Set aside.

Divide the goat cheese evenly among the ham filled cups.

In a medium bowl beat the eggs, half and half, salt, nutmeg and parmesan cheese.

Gently spoon the egg mixture into the cups, filling them just below the top of the pan. Do not overfill.

Bake the ham baskets for 15 minutes, top with the shredded cheddar cheese and bake for 5 more minutes until the cheese is melted.

Let them stand for 10 minutes and remove them from the cups with a small butter knife. They will come out easily. Serve immediately.