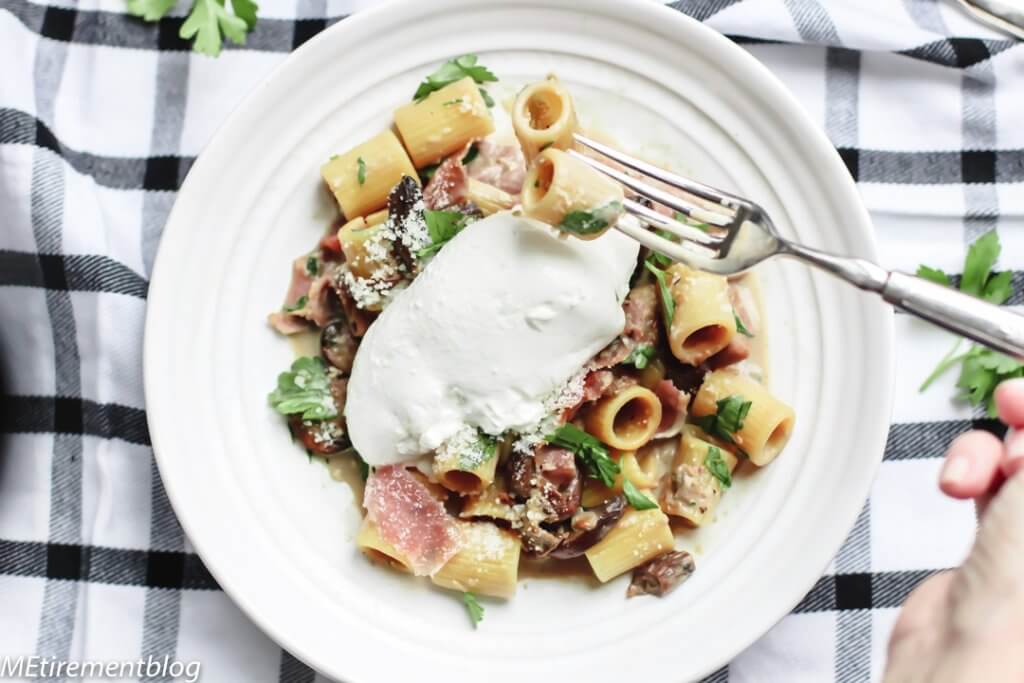 Creamy Mushroom Rigatoni with porcini mushrooms. Need I say more? Those thicker, chewier pasta tubes can really stand up to the bold flavors of the porcinis. Of course, the porcinis need some friends so they are sauteed with cremini mushrooms and lots and lots of garlic.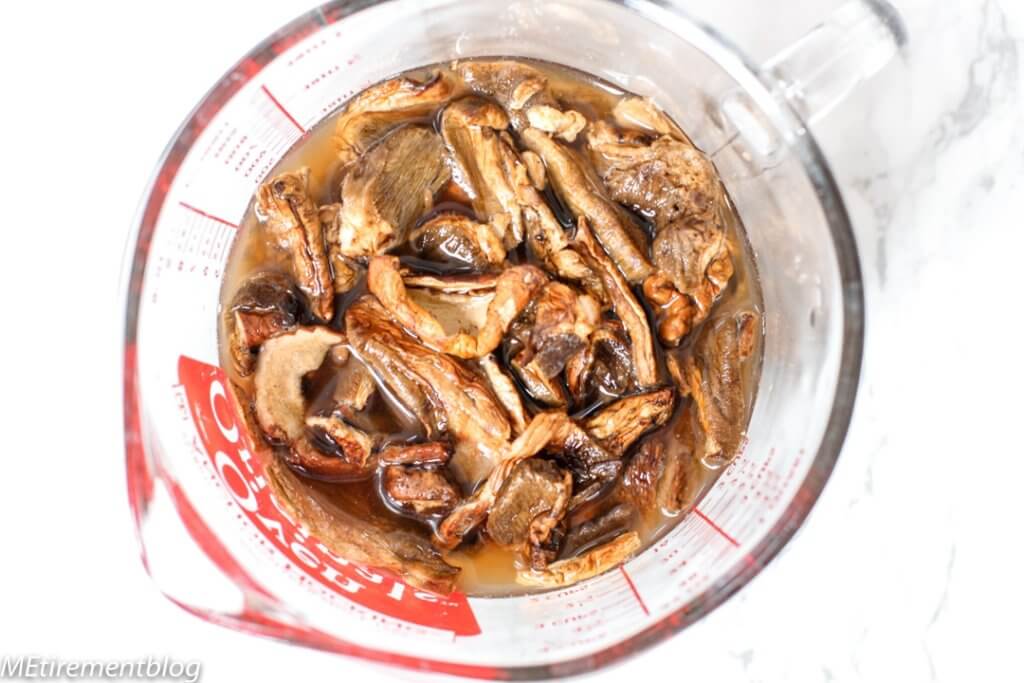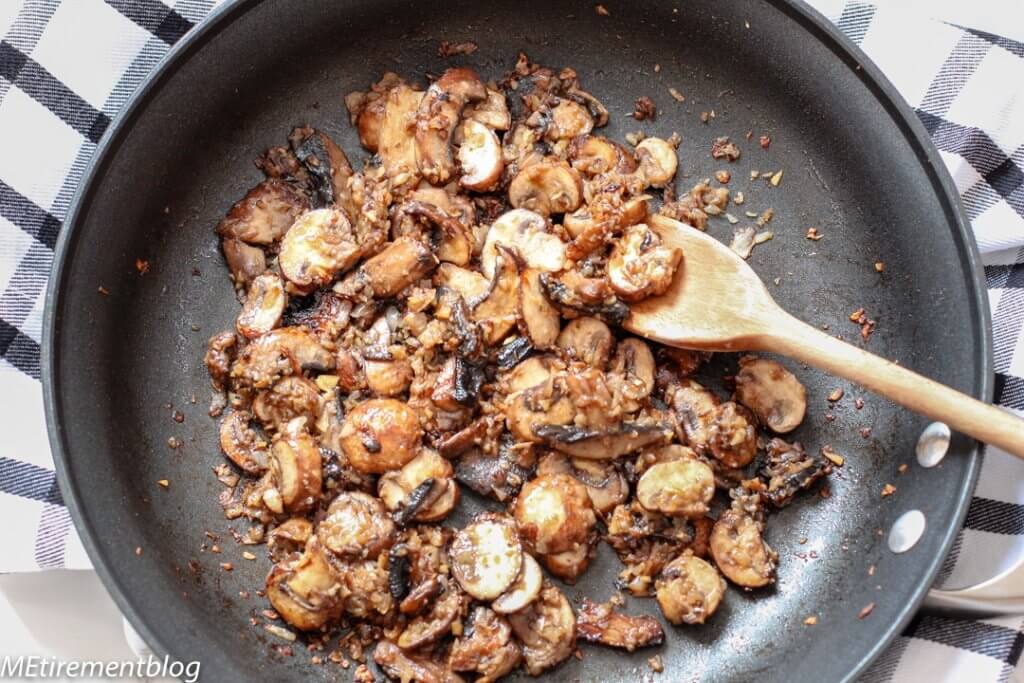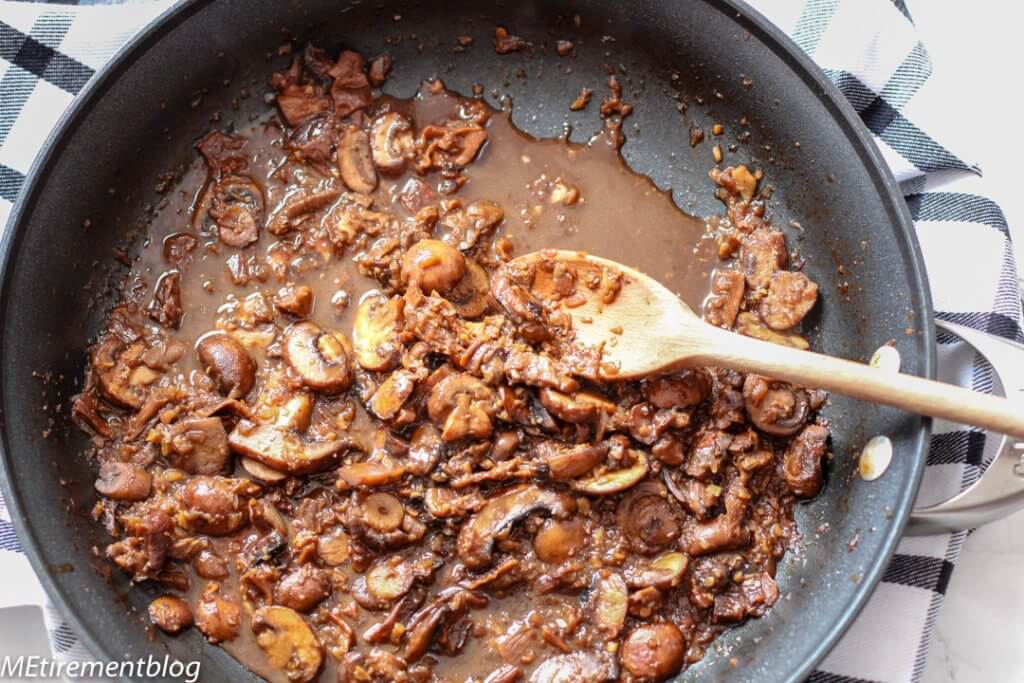 There are options to making thise dish to make it richer or lighter depending on whether you prefer heavy cream or fat free half and half. In either case, I mix the cream with a bit of cornstarch (more if you are using fat free half and half) but that is my favorite way to make a creamy sauce that stands up to the heat and doesnt curdle.
Once you make the pasta and saute the mushrooms, you are going to just combine everything with cream or half and half, a bit of pasta water to give it a nice gloss and a finish of parmesan and a little butter for even more creaminess. Of course, there must be proscuitto.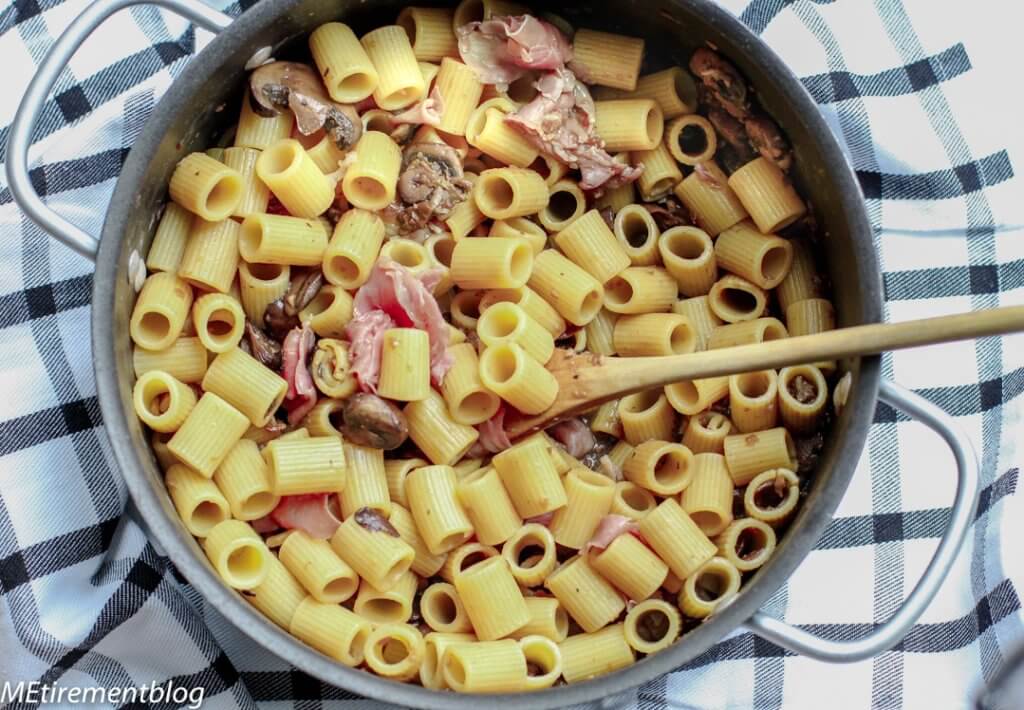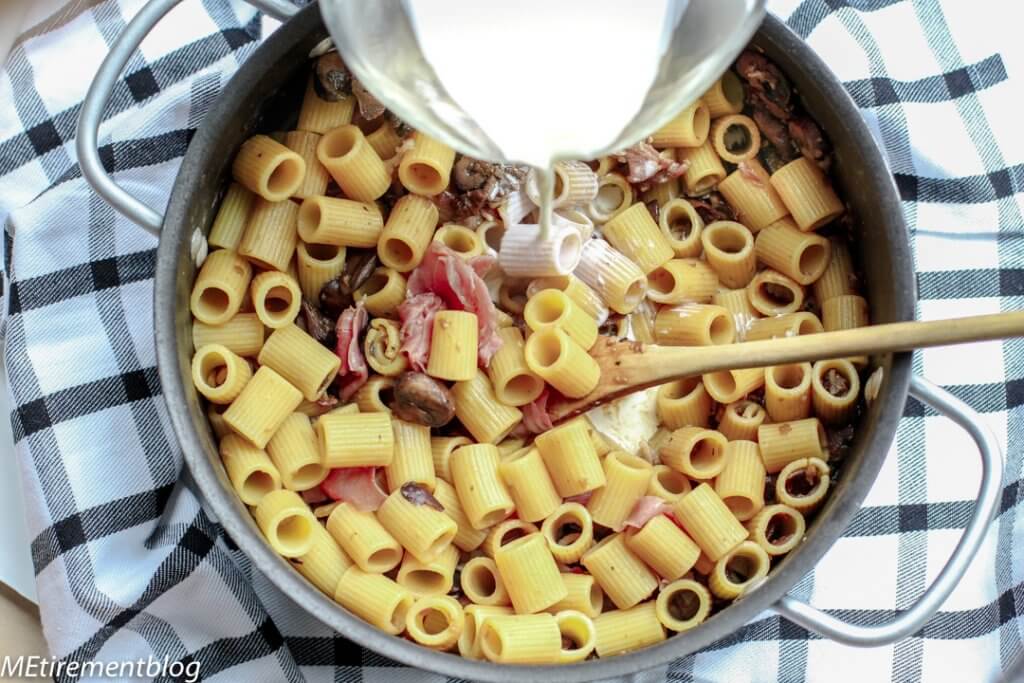 If you don't want to make a salad to go with the pasta, feel free to throw in some spinach at the end and the heat of the pasta will wilt it nicely. One, two, three, you're done. This pasta can be fancy or perfect for a routine weeknight dinner. Everyone loves pasta, right? And all the no carb and low carb dinner resolutions are over now so please enjoy this. It's not quinoa or kale. It's a lot better in my opinion. Psychological boost in the dark and dreary days of winter. Happy indulgence!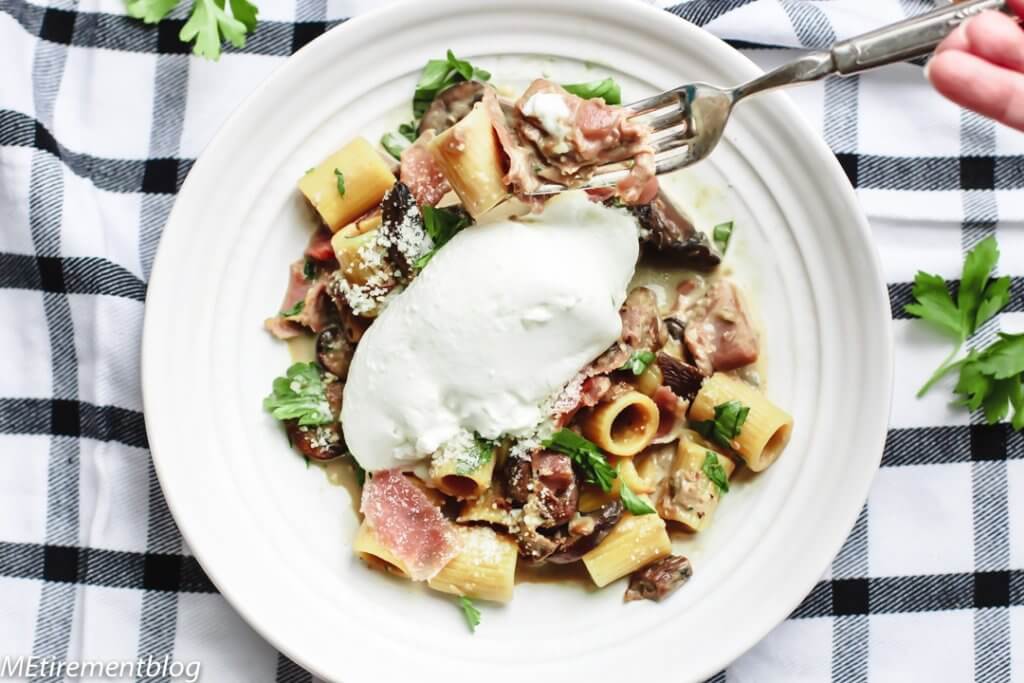 Creamy Mushroom Rigatoni
On these crazy, cold, never ending frosty days of Winter, you need a pasta dish that is hearty yet healthyish. Meaning….not a lot of fat but plenty of robust flavor. The rich porcini mushrooms in this dish with their soaking liquid reduced until it has reached maximum flavor, gives this pasta the heartiness that will stand up to a cold Winter night. You can make this with heavy cream or, my favorite substitute, a mixture of cornstarch and fat-free half and half which mimics the smooth richness of the heavy cream without the fat or calories. It's all up to you. If you have been working out a lot lately, enjoy the indulgence of the heavy cream. If you want to keep it light, by all means make it with the fat free half and half. You will not taste the difference.
Ingredients
1

ounce

dried porcini mushrooms

1/2

pound

fresh mushrooms

preferably Cremini or Bella

4

cloves

garlic

minced

3

shallots

minced

2

tablespoons

extra virgin olive oil

3

tablespoons

unsalted butter

divided

¾

teaspoon

salt

½

teaspoon

nutmeg

freshly grated

4

ounces

prosciutto

julienned

1

cup

heavy cream with 1 ½ teaspoons cornstarch whisked in or 1 cup of fat free half and half with 1 tablespoon cornstarch whisked in

1

pound

rigatoni

4

ounces

fresh spinach

(optional)

3

ounces

Parmesan

grated

3

tablespoons

Italian parsley

chopped

2

balls burrata

at room temperature, cut in half (optional)
Instructions
In a 4-cup microwave safe glass bowl or cup, heat 2 cups of chicken stock for 3-4 minutes until boiling. Add the porcini mushrooms and set aside until they are cool. Strain the porcini through a very fine strainer and reserve the liquid. Roughly chop the porcini and set aside.

Heat oil and 1 tablespoon butter in a large skillet. Over medium high heat, sauté garlic, shallots and sliced, fresh mushrooms just until mushrooms are tender. Add the porcini and their liquid. Turn heat to high, and keep stirring until almost all the liguid is gone. Stir in salt, nutmeg and prosciutto. Cook the rigatoni until it is al dente. Drain and place the pasta in a warm bowl, reserving 1/3 cup of pasta liquid. Warm the heavy cream or the fat-free half and half/cornstarch mixture in the microwave for one minute.

To the pot in which you have cooked the rigatoni, add the mushroom mixture and then add the rigatoni, pasta liquid and warm cream or half and half. Cook over medium low heat until the mushroom mixture is combined with the rigatoni and the cream is starting to thicken. Add the remaining 2 tablespoons of butter and toss. Add the spinich if you are using it and toss for one more minute. Remove pot from the heat. Sprinkle with the Parmesan cheese and parsley and toss for one more minute until everything is well mixed.

Spoon the mixture into warm bowls and pass additional Parmesan cheese. If you want to top each serving with a piece of burrata, just center it in the bowl. Serve immediately.
SaveSave